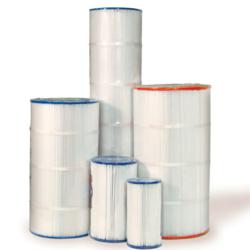 Pleato pool filter replacement cartridges from PoolGear Plus are popular with pool owners because they're made in the USA.
Clearwater, FL (PRWEB) April 05, 2012
Online pool supplies retailer PoolGear Plus is bringing back their popular source for pool filter replacement cartridges, Cartridge Corner, just in time for 2012 swimming pool season. Cartridge Corner offers bestselling pool filter cartridge brands in the most-often needed sizes. Consumers can call the PoolGear Plus Pool Tech Line at 888-718-7946 for expert assistance in locating other cartridge filter brands and sizes.
PoolGear Plus carries Pleatco Pure® replacement cartridges, which are less expensive than filter cartridges that come directly from pool filter manufacturers but are of the same high quality and provide the same durability. Pleatco pool filter cartridges from PoolGear Plus are available to fit pool filters from name-brand manufacturers like Hayward®, Jandy®, and Pentair Pool Water and Spa®. With free-flow cores for increased efficiency and the best filtration, the same top-quality filter media (Reemay®) as manufacturer-built cartridges, and antimicrobial end caps that offer the highest resistance to chlorine and cracks, Pleato pool filter replacement cartridges are also popular with pool owners because they're made in the USA.
A filter cartridge that provides cleaner pool water but also offers economical pool maintenance is essential to today's savvy pool owners, who are educated and demand the best for their families and homes. The free-flow cores on Pleatco filter replacement cartridges enhance filtration by delivering better water flow rates. This efficiency reduces wear and tear on the pump, uses less energy, and gives the cartridge longer life. Proper flow is increasingly important as many pool owners switch to energy-efficient multiple- and variable-speed pool pumps.
Optimum efficiency via the best technology is a priority for customers of PoolGear Plus. Pleatco uses highly-efficient, spun-bonded polyester Reemay filtration fabric in all pool filter cartridges. Break-resistant bands keep the pleats clearly defined and easily separated for increased water flow. In competitors' cartridges, low-quality bands fall off and cause collapsed pleats, which decrease's a filter's lifespan; poor flow increases back pressure throughout the entire filtration system.
Finally, PoolGear Plus is pleased to offer Pleatco pool filter replacement cartridges because the end caps are formulated to withstand chlorine degradation and are 100% antimicrobial, which prohibits the growth of odor-causing bacteria. Pleatco's part numbers are clearly displayed on all end caps. If the part number for the filter cartridge they need is unavailable, pool owners can use PoolGear Plus' easy-to-follow instructions for how to measure a filter cartridge.
PoolGear Plus offers a Buy With Confidence policy on all pool filter cartridges; Buy With Confidence means that when consumers buy pool supplies and equipment from PoolGear Plus, the total price they pay will never be more than they would pay at a competitor's. With free shipping and just an $8.99 handling fee, PoolGear Plus customers can save even more by combining their pool filter cartridge purchase with other pool supplies such as chlorine tablets, pool shock, pool floats and pool toys, and other pool accessories.
About PoolGear Plus
PoolGear Plus is an authorized distributor of Pleatco Pure pool filter cartridges as well as a wide variety of other name-brand pool products. Offering pool chemicals, pool cleaners, pool equipment, and anything and everything else pool owners need for the perfect pool and backyard, PoolGear Plus continues to provide the utmost in quality, value and service to their customers. PoolGear Plus: Your Pool Is Our Passion.