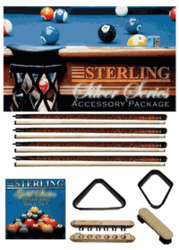 Monster Break Billiards, the reputed billiard accessory online store now includes cheap pool table accessories in the collection. All US-made billiard accessories are available on this offer.
New York, NY (PRWEB) November 08, 2012
Monster Break Billiards now stocks huge collection of US-made pool table accessories. All these accessories are priced at cheap rate to attract buyers.
Using perfect and quality billiard accessories is important to play the game properly and to keep the devices in proper condition for long time. To honor this trust of billiard fanatics, Henderson Coleman, owner of the online store for billiard accessories, Monster Break Billiards introduces a special offer. A huge collection of pool table accessories will soon be available from the store at cheap rate. He suggested that a customer can easily save a certain amount on purchase of these accessories and can judge the difference in price rate of the products available here and in other online stores. The devices that will be offered are all-US made and assure to be of best quality.
The owner of the company, along with other professionals disclosed the news. He said, "Offering pool table accessories at cheap rate is not a big deal as we often used to introduce such offers. However, providing quality articles at lowest rate is a challenge, especially when we are supposed to compete with other brands dealing with same kind of products and I believe that we have succeeded in this regard. We maintain quality for both small and big accessories on offer."
The store authorities have included anything and everything that are required to decorate table pool accurately. Customer either can purchase these products in sets or individually, according to their convenience.
According to Mr. Alden Aldo, the head accessory designer associated with the store, "As billiard is most popular at varied US states, we have thus talked to other designers on the industry to know about these pool table accessories in detail. That is why we are now able to offer the most stylish devices for the game."
He also said, "Each available products are different here but as a designer, I personally like the pool table lights for its craftsmanship and utility"
Mr. Pinto is a billiard fan and often tries the game at country club. Hearing the news he says, "I was planning to get my own accessories so that I can play at home as well. Now it will be easier to avail best accessories to decorate the pool, without thinking much about budget."
Customers are free to check all the categories personally before purchasing the devices. In case of any confusion, they can take help of the professionals to choose pool table accessories.
About the Company: Monster Break Billiards is the online store, which sell almost all kinds of billiard products and accessories. The store is popular for offering accessories like pool table accessories at minimum rate. The shipping service of the store is also affordable. To know more visit http://www.monsterbreakbilliards.com/billiards-supplies-table-accessories.html.