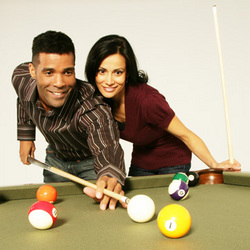 Customers want high quality billiard furniture that matches their pool table and doesn't break the bank.
Draper, UT (PRWEB) September 15, 2010
A billiards room isn't just about the pool table, it is about family, friends, fun, and of course the matching furniture which brings all of this together. PoolTables.com will be debuting exclusively the new bar-height pub tables and chairs from Spencer Marston Billiards Company that have been meticulously designed to complement their pool table models.
The pub tables, which include both a new stand-alone table and a half-moon wall mount table, will be made of solid hardwood and have matching finishes for each of the Spencer Marston pool tables, namely: Pecan, Walnut, Oak, Cherry, and Black. The pub chairs will also be in each respective color and will be available in two models; the swivel pub chair model, and the stationary king chair model.
PoolTables.com has been the furniture retailer for Spencer Marston and other manufacturers for many years, yet they have not been satisfied with the lineup thus far.
"Customers want high quality billiard furniture that matches their pool table and doesn't break the bank," said McKay Thomas, PoolTables.com's manager over marketing. "Customers deserve the very best and that's what this new furniture lineup brings," he continued.
There is a lot of anticipation within PoolTables.com concerning the release of this new billiard furniture. Much of the sales staff within PoolTables.com's local retail stores have noted that many customers have not purchased furniture in the past hoping to score the new models coming late November 2010.
"It will be well worth the wait!" said one prospective pool table purchaser. He described his newly finished basement that would soon be transformed into a full blown billiards room, complete with a Spencer Marston pool table and matching pub table and chair set. He's not alone in his desire. Many pool tables in the U.S. are purchased each year as part of a billiards collection involving a pool table, a pub table of some kind, chairs, and even bars, bar stools, mirrors and other furniture items. PoolTables.com anticipates lots of customer demand for this new lineup.
The new Spencer Marston furniture joins many other Spencer Marston products that are already available, including: table tennis conversion tops for pool tables, furniture cues racks, eight ball racks, nine ball racks, complete beginner and professional accessory kits, foosball tables, and cues.
PoolTabes.com has been wholesaling Spencer Marston Billiards Company products for over six years. During that time tens of thousands of people have been outfitted with billiards rooms and pool tables from PoolTables.com.
There has been an overwhelming amount of customer support for the new furniture that is to be released and PoolTables.com expects the same kind of positive results from this new furniture as they have had from their many years selling pool tables.
###