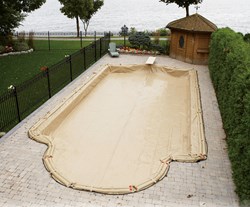 It is important for all pool owners to know that winterizing their pool is vital to the health and longevity of the pool.
Ontario, CA (PRWEB) September 13, 2013
After a cooler than average summer across the country, it looks like we can expect Fall weather early this year. The Farmers' Almanac predicts "unseasonably chilly" weather for September, and shows no sign of the cold temperatures letting up. Unfortunately, that means an early end to the pool season. At Pool Supply Unlimited they have prepared in advance to ensure they have all the right materials to help their customers properly winterize their pools.
Once it starts getting cold and your swimming pool is no longer as much fun, it's very easy to forget about maintaining your pool. "It is important for all pool owners to know that winterizing their pool is vital to the health and longevity of the pool," advises Mike Barber, Vice President of Pool Supply Unlimited. "Doing so will protect your pool from damage and keep your pool clean so it's easier to open when spring arrives."
Poolsupplyunlimited.com now features a newly launched, vast selection of premium above ground pool winter covers and in-ground pool winter covers. This line of winter pool covers boasts durable material and quality construction; all at half the price of similar covers. A winter cover will not only protect your pool from leaves, dirt and debris, but will also block sunlight from passing through – aiding in the prevention of algae growth.
In addition to a quality winter cover, the proper winterizing chemicals are a must for closing your pool for the winter. Damage caused by improper water chemistry can wreak havoc, causing staining and/or algae growth. The easiest way to prepare your in-ground or above ground swimming pool for the winter season is to use an all-in-one chemical kit. Winterizing chemical kits contain exactly the right chemicals, pre-measured for your pool size with step by step instructions.
This Fall, Pool Supply Unlimited encourages all pool owners to invest in the right products to protect their pool during the winter months while it is not being used.
About Pool Supply Unlimited
Pool Supply Unlimited is managed by veterans of the swimming pool industry. 20 years' experience allows us to provide unparalleled customer service. We offer an unparalleled selection of pool and spa products, equipment and parts from the industry's leading brands.