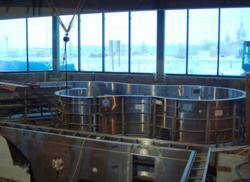 ...with wind chills in the negative 40s. 'We were working in the coldest place on Earth'
Indianapolis, IN (PRWEB) February 26, 2013
The waterpark is the main attraction of the 11.8 million dollar Richardson Center in west-central Manitoba. It's the first of three major phases to be constructed as funding becomes available.
Fifteen tons of stainless steel went into the manufacturing of the Natare pools in Indianapolis, which were shipped in 30 unitized sections to Swan River, Manitoba to be assembled and installed by Acapulco Pools. Each section averages 6 meters in length, and includes a gutter system with a tiled finish at the water line.
The lazy river and other sections of these interconnected pools were designed with many twists and turns. "Designing a structural skeleton to accommodate all of the 'multiple-radius' pool walls was a unique challenge," according to Natare engineer, Brian Watson. Natare also designed the curved stainless steel walls to attach to this skeleton in an "invisible manner," creating a smooth, unmarred pool finish.
This indoor aquatic paradise was constructed throughout a bitter-cold winter, even by Canadian standards, where the January temperatures fell below negative 30 F on multiple occasions, with wind chills in the negative 40s. "We were working in the coldest place on Earth," said Joe Stevenson, Natare's Field Supervisor.
The community-supported facility is still raising funds for other phases of the project. Other amenities planned for Richardson Center include a sauna, water slide, fitness area, walking track, soccer field, and a climbing wall. Once completed, the facility will offer year-round exercise and recreation for up to 35,000 people in the Swan Valley region, according to the project's website.
About Natare Corporation:
Headquartered in Indianapolis, Natare Corporation designs, builds and installs equipment and systems for swimming pools, aquatic facilities and water features around the world. Natare provides stainless steel pools and spas, PVC pool linings, gutter systems, moving bulkheads, filtration and mechanical systems, as well as consulting and technical expertise. Learn more at http://www.natare.com.