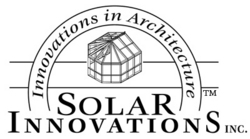 Myerstown, PA (PRWEB) July 26, 2008
Solar Innovations, Inc., a custom manufacturer of residential and commercial greenhouses, conservatories, sunrooms, folding, tilting, and sliding glass doors, walls, windows, and screens, creates unique environments to allow for year-round, low impact exercise.
With an increased emphasis on physical fitness and healthy bodies, spirits, and minds, Solar Innovations, Inc. provides state of the art pool and spa enclosures. "Solar Innovations'™ thermally-enhanced aluminum structures are built to withstand the high moisture atmosphere of a pool enclosure without corrosion of joints, finishes, and hardware." These environments extend the season and create a year-round exercise facility which our customers can utilize as one of the best investments to their health.
Exercising in water provides several major health benefits as opposed to conventional exercises. Buoyancy virtually eliminates stress on joints by supporting approximately 90% of a person's weight and provides a cushion for the body. The natural resistance provided by water's viscosity creates an ideal muscle training program. Rather than increasing weights and altering machinery as with land exercising, resistance in water is easily increased either by speed or surface area submerged (the resistance is proportional to the force required to move it).
As with nearly any Solar Innovations, Inc. structure, natural flow ventilation like ridge vents, eave vents, and retractable skylights can be seamlessly blended into any pool enclosure to allow for aesthetically pleasing sightlines and a comfortable exercise atmosphere. Solar Innovations™ also provides shading options which allow customers to enjoy as much or as little of the natural surroundings as they choose. Both ventilation and shading accessories can be automated to allow customers complete control of their environment and nature's affects upon it. Solar Innovations'™ pool enclosures are also designed to accommodate plant life, adding to the relaxing environment and encouraging healthy living through green practices.
Solar Innovations'™ uniquely integrated weep system allows moisture within a structure to collect, follow the weep channels, and eventually exit the structure through the gutter system. This system can be integrated into any pool or spa enclosure to increase its functionality without detracting from its aesthetic appeal.
Solar Innovations'™ incomparable pool and spa enclosures are available in limitless design formations including straight eave, curved eave, double pitch, lean-to, conservatory nose, and hip end structures. There are seven standard aluminum frame finishes of Hartford Green, Black, Bronze, White, Sandstone, Natural Clay, and Mill Aluminum (unpainted) and two anodized frame finishes of Dark Bronze and Clear. Copper and Stainless Steel cladding options are also available for the enclosure's exterior allowing it to seamlessly blend into the surrounding environment and become a part of the architecture or serve as a focal point.
Exercising with water resistance provides an aerobic exercise routine while incorporating endurance and strength training. Even the simplest exercises completed on land can be taken to a whole new level when exercising in water. Contact Solar Innovations™ today at skylight@solarinnovations.com or call 800-618-0669 for information on how to make your pool a year-round, low impact exercise facility with a custom pool enclosure.
# # #