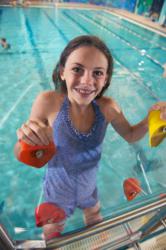 Clear Pool Climbing Walls offer maximum visual surveillance for both lifeguards and parents alike
Mendota Heights, MN (PRWEB) April 03, 2013
The sport of climbing seems to be constantly evolving. The past few years have seen the introduction of light-up climbing hand holds, natural climbing boulders for city parks and now pool climbing walls.
"We started seeing pool climbing walls several years ago, and now we're 'not seeing' them, because of the clear, 'see through' versions that have been introduced," says Director of Marketing Tracy Whitney of Everlast Climbing™. Everlast Climbing launched the clear Kersplash® Pool Climbing Wall in October of 2011 and has seen it grow rapidly in popularity in the YMCA, Park and Recreation, and Camp markets.
Jeff Moffitt, Aquatics Director at the City of Gainesville, will be installing one of these climbing walls before his pool opens this spring. "There's a lot of excitement. It's a unique product. We think it's going to be a big trend in the years to come." Moffitt says he decided to go with the clear version because "the staff will be able to monitor the whole facility a lot better. Safety is a big consideration."
"Clear Pool Climbing Walls offer maximum visual surveillance for both lifeguards and parents alike. 'See-through' walls allow for 360-degree visual surveillance, eliminating virtually all blind spots," says Tom Griffiths, principal at the Aquatic Safety Research Group. "For optimal supervision, clear is better."
Everlast Climbing™ created the clear panel climbing wall after market research indicated that one of the biggest problems with recreational features around pools was the creation of "visual barriers." Some pool operators avoid adding recreational features around the pool perimeter in order to maintain clear lines of sight. However, pool operators are also constantly looking for new products to engage recreational users, especially the difficult to cater to teen and "tween" market. The Kersplash® wall, and other clear pool climbing walls, seems to be the solution and continue to make a splash.
About Everlast Climbing™
Everlast Climbing™ is committed to improving youth fitness with dynamic and innovative products that engage children and inspire physical activity. The company is headquartered in Mendota Heights, MN, and is part of EverActive Brands, a division of PlayCore of Chattanooga, TN. More information is available about Everlast Climbing™ at http://www.traversewall.com.