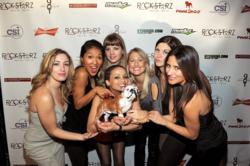 Lafayette, CO (PRWEB) December 15, 2011
PoolDawg, an online leader in billiards and game room supplies, announced today that their mascot, Frank T. Dawg, will be hitting the road in 2012 with the Rack Starz taeam. Over the past 3 years, Frank has traveled to dozens of billiards events including regional tour stops, WPBA pro events and even celebrity events.
2012 looks to be an extremely busy year for PoolDawg's mascot. Frank just got back from the Mosconi Cup and is already back on the road with Jennifer Barretta, traveling to the Turning Stone Classic XVIII. In addition to Turning Stone, Frank is planning on attending the MTV New Year's Eve party, the National Amateur Pool League playoffs, the Super Billiards Expo, APA Team National Championships, the Wisconsin State Championships and several WPBA tour stops.
Frank will be blogging and posting pictures from these events with the help of his new friends from the Rack Starz. His continuing adventures and photos can be found at http://www.FranksDawgHouse.com.
About PoolDawg.com, Inc
With over 3,000 pool cues, cases, and game room accessories, PoolDawg is the premier destination for pool players of all levels. PoolDawg offers one of the widest selections of cues, cases and accessories on the web and carries billiards products from over forty manufacturers including Scorpion, Cuetec, Predator, Lucasi, McDermott, Schon and Action and can be found online at http://www.pooldawg.com.
PoolDawg Contact:
Michael Feiman
mike[at]pooldawg.com
About Rack Starz
Founded by pool players Gail Glazebrook and Jennifer Barretta, the Rack Starz are a group of sexy intelligent women from all over the world brought together to take the game of pool out of the smoke-filled back room and into the mainstream limelight. The Rack Starz are not only athletes, but they are also moms, models, actresses, nutritionists, CEOs, and marketing analysts, with many holding advanced degrees. Among these women, more than 15 languages are spoken representing a multitude of cultures making the Rack Starz true ambassadors to the billiards world. For more information, please visit http://www.therackstarz.com.
Rack Starz Contact:
Whitney Woznick
W2 Public Relations
whitney[at]w2publicrelations.com
# # #