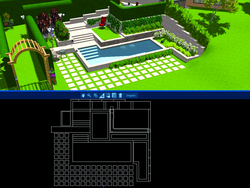 With this update, professionals across the industry who use AutoCAD will now benefit from Pool Studio 3D
Las Vegas, NV (PRWEB) December 14, 2009
Structure Studios is very pleased and excited to announce that 2D AutoCAD® files can now be imported directly into Pool Studio. Within minutes, a standard 2D AutoCAD file can be transformed into a fully interactive 3D presentation. The latest update introduces a new feature which allows information from DWG files, the native file format for Autodesk's AutoCAD software, to be copied directly into Pool Studio projects. This feature also allows DXF files to be imported as well. This new feature makes it easy to quickly import pool templates, landscaping symbols, and whole 2D design projects from the AutoCAD software into Pool Studio 3D swimming pool design software.
AutoCAD is the well established standard for 2D design and construction. Now with Pool Studio it is easy to transform DWG files, the most popular and native AutoCAD 2D file format, into real time 3D presentations. This allows professionals in all construction and design industries to immediately benefit from Pool Studio's "Instant 3D" technology using the 2D projects they have already created in AutoCAD.
Like all updates to the software, this new features will download automatically with the latest update to Pool Studio. A copy of the AutoCAD software is not needed to use this feature. All software updates come complete with Pool Studio Membership, ensuring Pool Studio is always at the latest version.
Pool Studio contains RealDWG ™ by Autodesk, Inc., Copyright © 1998-2006 Autodesk, Inc. All rights reserved.
About Pool Studio:
The industry leader in professional 3D swimming pool design software, Pool Studio is used by 48 of Pool and Spa News' top 50 pool builders for 2008. It is the 3D technology customers expect when buying a pool. Pool Studio's powerful, easy to use system transforms standard 2D designs into real time 3D presentations. Pool Studio Membership includes free training, free support, and free software updates. Ensuring Pool Studio remains the state of the art. Find out more at PoolStudio.com
About Structure Studios:
Structure Studios of Las Vegas, Nevada, has been creating professional 3D design software since 2000. Widely recognized as an accomplished leader in innovation and development, Structure Studios boasts some of the industry's most talented developers. Extensive experience in computer design and 3D creation have enabled the Structure Studios team to provide the best quality, most realistic, and easiest to use real time 3D in the industry. To learn more about Structure Studios, visit StructureStudios.com or call 800-778-8996.
Media Contact:
Stefanie Dunn
Structure Studios
702-818-8185
http://www.StructureStudios.com
###