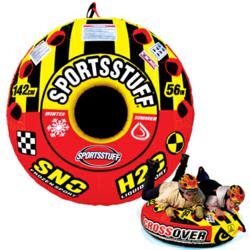 Customers who order from PoolGear Plus pay zero sales tax and receive free shipping with just an $8.99 handling fee per order.
Clearwater, FL (PRWEB) October 25, 2011
PoolGear Plus, a leader in the sale of pool and spa supplies online, has expanded their product line as winter approaches and temperatures cool. The company has added snow tubes, game room equipment, and saunas to their lineup, with plans to increase offerings as the holidays approach. Pool owners and non-pool owners alike will find great deals on inflatable snow tubes, tabletop games and full-size game tables, and infrared saunas. As with pool and spa supplies, customers who order from PoolGear Plus pay zero sales tax and receive free shipping with just an $8.99 handling fee per order.
There's a snow tube for every budget at PoolGear Plus, with prices ranging from $19.99 to $219.99. The Sportsstuff® Rally Single-Rider Snow Tube features heavy-duty PVC construction, cup-like seating for extra sledding stability, and strong molded PVC handles with plenty of mitten room. At the other end of the spectrum is the two-person Super Crossover, which has a heavy-duty partial nylon cover and slick, durable PVC tarpaulin bottom to speed things up. It also features mesh drainage vents, a reinforced tow system, and a maximum capacity of 340 pounds.
PoolGear Plus has added many exciting tabletop games and full-size game tables to their product offerings. The 32" Tabletop Soccer Table is an exclusive Major League Soccer table that brings thrilling MLS action at a great price. Quality construction, smooth gliding rods and exclusive MLS markings make this tabletop soccer game a keeper for any child's room. Full-size game tables now at PoolGear Plus include the 7' or 8' pool table with MDF playfield, an entry-level pool table that is of far superior quality to "game-style" pool tables. The ¾" MDF playing bed provides great accuracy and a true ball roll and is covered with stylish gray felt, and the sturdy black cabinet includes pedestal-style legs with levelers for stable rolling action.
The new saunas at PoolGear Plus are top-quality and offer relaxation and rejuvenation from the comfort of home. The two most popular models are the 2-Person Carbon Infrared Sauna and the 3-Person Corner Carbon Infrared Sauna. Dual interior and exterior LED control panels allow easy temperature control. The 2-person infrared sauna features six carbon heaters and will plug right into the owner's standard home electric outlet. The 3-person infrared sauna boasts seven carbon heaters and comfortably seats three people on the extra-deep benches that run along the back wall of the sauna; the three back rests can be moved to any desired location. Many infrared saunas from PoolGear Plus come equipped with extras like towel / magazine racks, CD Players with MP3 plug-in, ergonomic backrests, color therapy lights, and oxygen ionizers.
As with any purchase made at PoolGear Plus, customers pay no sales tax and receive free shipping with just an $8.99 handling fee per order. New customers are eligible to receive a coupon for 10% off orders of $100 or more by signing up for PoolGear Plus newsletters at the top of any page of the website.
About PoolGear Plus
PoolGear Plus' focus on their customers' needs means that they offer an ever-expanding range of pool supplies, spa supplies, and products that enhance their customers' lifestyles with fun activities for the whole family, no matter what the season. The mission of PoolGear Plus is to provide these items at the lowest prices without compromising quality to ensure the highest degree of customer satisfaction with each and every purchase.
###