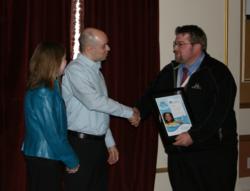 This award could not have been achieved without the generosity of our customers who made donations at our store.
Toronto, Canada (Vocus/PRWEB) March 23, 2011
Gib-San Pool & Spa has been recognized as a top fundraiser in the 2010 Splash for CF campaign. Organized in concert with Cystic Fibrosis Canada, Splash for CF is a national initiative pioneered by Bio Guard and supported by many of their dealers across Canada.
Gib-San's fundraising strategy leveraged their loyal customer base by asking for $2 donations in exchange for water testing over the month of August 2010. Gib-San then matched every donation that was collected, with excellent results.
The company would like to thank all of their generous customers who made donations at the store. Gib-San continues to accept donations for this very worthy cause.
ABOUT GIBSAN
Gib-San Pools has been creating backyard resorts for families for over 45 years. In addition to building throughout the Greater Toronto Area, Gib-San is also experienced in the design and build of estate pools in distant locations such as the Caribbean, Europe and across Canada. Gib-San knows how to make designing your backyard resort easy by providing one source – from design to landscaping. Even after the build, Gib-San is here to support you with Valet maintenance programs for those wanting full service and retail support for those wishing to maintain their pools themselves. Gib-San will meet your family lifestyle needs by making your backyard resort a reality.
ABOUT BIO GUARD
Bio Guard is one of the nation's premier suppliers of pool and spa care products, and has been in business for over 40 years. Their reputation is built on constant technological improvements, extensive research and innovation and superior customer service.
ABOUT CYSTIC FIBROSIS CANADA
Cystic Fibrosis Canada is a Canada-wide health charity established in 1960, with volunteers in more than 50 chapters across Canada. The organization is one of the world's largest non-governmental granting agencies in the field of cystic fibrosis research.
###