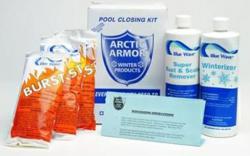 St. Paul, MN (PRWEB) August 14, 2012
PcPools, one of America's leading direct marketers of above ground pools and pool supplies for residential and commercial pool owners, announces that Blue Wave Pool Products has named it an authorized dealer for Arctic Armor™/Blue Wave® Winterizing Pool Chemicals. Blue Wave Pool Products manufactures a high quality line of pool and spa chemicals that are only available through authorized Blue Wave Pool Chemical dealers.
The Arctic Armor™/Blue Wave® Pool Winterizing Kits are specially designed, pre-formulated packages that include all the chemicals swimming pool owners need for the winterization process. The kits include Terminator Algaecide, Super Rust & Scale Remover, and Burst Shock, however, a version with chlorine-free shock is also available. The kits come with instructions and are pre-formulated by pool size so deciding what package to order and how to use it is easy.
Marketing Director Steven Anderson had this to say about being named an authorized dealer: "Millions of pool owners trust Blue Wave pool chemicals to keep their swimming pools crystal clear and clean, and that trust is no different when it comes to winterization. We wish preparing a pool for winter was as easy as putting on an Arctic Armor™ winter cover, but in many areas of the country it's not. Adding the correct chemicals in proper dosages is key to a smooth pool opening in the spring. We're proud to offer Blue Wave's high quality, pre-formulated kits to make the winterization process easier."
About PcPools
PcPools is one of America's leading multi-channel direct marketers of swimming pool supplies and equipment to the residential and commercial markets in the United States. Founded in 2000 by a leading executive in the pool supplies industry, it has since been dedicated to providing residential and commercial pool owners with high quality swimming pool supplies and equipment at warehouse direct prices. PcPools' product line – all of which is sold through our catalog and internet channels – includes above ground pools, automatic pool cleaners, pool liners, pool heaters, pool chemicals, pool covers, and other pool accessories. PcPools' strong relationship with leading pool supply manufacturers and distributors creates a truly unique combination of quality product at excellent value for its customers.
About Blue Wave® Pool Products
Blue Wave® Pool Products is a leading distributor and manufacturer of pool products and supplies to swimming pool retailers across the United States. Blue Wave®, headquartered in St. Charles, IL, manufacturers and/or distributes above ground pools, in ground pools, replacement pool liners, pool equipment, pool covers, pool chemicals, supplies, and backyard living products.
Note to Editors: If you are interested in viewing addition information about PcPools or Blue Wave® please visit following websites: