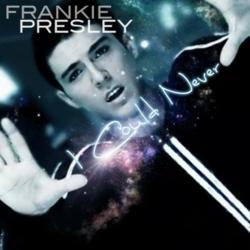 I have always believed in dreaming big and aiming high with my goals, but seeing my new video touch so many people so fast is more than I could have imagined
New York, NY (PRWEB) May 17, 2012
Up-and-coming Pop artist Frankie Presley is already on the fast track to making a name for himself as a standout solo artist with a rapidly growing fan base. Now, Presley is turning heads again with the overwhelming success of his recent YouTube video performing "I Could Never" music video that has skyrocketed online with more than 700,000 hits to date.
Only two weeks after his smash-hit dance song was uploaded, Presley amassed more than 730,000 hits and counting. Presley's stellar music video on YouTube could reach 1 million hits sooner than later. With the release of his new video, Presley's YouTube channel has expanded with six videos, including a fantastic cover of "It Will Rain" originally performed by Bruno Mars, a classic remake of the Elvis Presley song "Can't Help Falling in Love with You" and more are likely to come as he spreads his influence online.
"I have always believed in dreaming big and aiming high with my goals, but seeing my new video touch so many people so fast is more than I could have imagined," said Presley. "It's truly inspiring to see how many fans supported the hard work and dedication that has gone into my music. I'm really looking forward to sharing more of myself with the world," he added.
Early in his career as a teen, Presley displayed music and dance talent leading to multiple awards from national talent competitions throughout high school, earning him a scholarship with Wagner College in Theatre Arts in New York. Presley was a member of the former pop group WOW, which entertained audiences throughout North America. As a member of the former group, Frankie also embarked upon a 30-day tour in the U.K. with the multi-platinum Pop group Westlife, which culminated with performances in front of 85,000 fans at Croke Park Stadium in Dublin, Ireland. While with his former group, Presley had the privilege to open for Justin Bieber, Selena Gomez and Sean Kingston.
"Frankie's recent success on YouTube is just scratching the surface because he has so much more to offer his fans. His talent is undeniable … he can sing, dance and choreograph great performances and he does it so well," said Ellie Lambert of Kel Entertainment, Presley's manager. "We have a lot of plans lined up and we will strive to entertain Frankie's fans in new and exciting ways" she added.
Presley is starting the summer off by planning an upcoming tour. Creative Recycling will be one of Presley's sponsors as he gains momentum in the Pop world. More information about the tour will be announced soon.
For the latest news on Presley and his music, he can be followed on Twitter at http://twitter.com/frankiepresley (@frankiepresley), on Facebook at http://www.facebook.com/FrankiePresleyOfficial and his official website http://www.FrankiePresley.com.
For Media Inquiries and Interviews, contact:
Yvette Morales
YM & Associates
PR | Marketing | Branding
California | New York
949.244.9769 | 310.499.0906 Fax
YMoralesY(at)YM-PR(dot)com
dot com