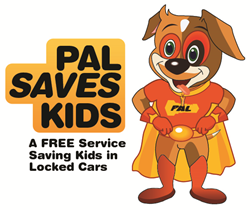 "We launched this program in 1991 to educate caregivers about the severe dangers of leaving children in unattended vehicles or mistakenly locking a child in an automobile," said Don Marks, CEO of Pop-A-Lock.
Lafayette, Louisiana (PRWEB) May 29, 2014
With the start of summer just around the corner, thoughts turn to the school year's end, family vacations and swimming in the community pool. However, in addition to typical safety concerns that most parents share – such as wearing sunscreen, bug bites and talking to strangers – Pop-A-Lock, the country's largest security company, wants parents and caregivers to be informed about:

The extreme – and some times fatal – dangers of locking a child in a vehicle during soaring summer temperatures;
Keeping "latch-key" children safe and secure during summer vacation while their parents are at work; and
Securing one's home while on summer vacation.
This three-part educational awareness series will focus on one topic per month starting in May and conclude in early August.
This month, in preparation for summer heat indexes, Pop-A-Lock will focus on the dangers of leaving children in unattended vehicles and educate caregivers about the company's PALSavesKids Program. Aimed to support local police and firefighters, the program educates parents to first call 9-1-1 and then call 1-800-Pop-A-Lock. The Pop-A-Lock technician nearest to the scene will leave all other priorities aside to arrive as soon as possible to unlock the child from the automobile.
This free community service was originally launched in 1991 and since then has saved over 350,000 children. The following are some daunting facts about the severity of leaving children in locked vehicles:
The Department of Earth and Climate Sciences at San Francisco State University cites that: "Last year, 2013, there were at least forty-four deaths of children in vehicles; thirty-nine of which have been confirmed as heatstroke and five which, based upon the known circumstances, are most likely heatstroke."
Since 1998, media reports about the total 606 child vehicular heatstroke deaths shows the following circumstances:
o 52% - child "forgotten" by caregiver (316 Children)
o 29% - child playing in unattended vehicle (175)
o 18% - child intentionally left in vehicle by adult (108)
o 1% - circumstances unknown (6)
To prevent these situations from occurring, Pop-A-Lock's PALSavesKids program includes a call-to-action: "PALSaves 1-2-3." The "1-2-3" reminds caregivers to "look before you lock" by: 1-stopping; 2-looking; and then 3- locking. PALSavesKids' mascot, PALS Puppy, is a gentle reminder to caregivers to always look in the backseat before leaving the vehicle. Specific recommendations on using the PALS Puppy as a visual reminder are noted in the campaign's "PALSaves 1-2-3" Tips Sheet. The following is an excerpt:
Keep vehicles locked at all times; even in the garage or driveway and always set your parking brake.
Put something you'll need like your cell phone, handbag, employee ID or brief case, etc., on the floorboard in the back seat.
Keep a large stuffed animal or favorite toy in the child's car seat when it's not occupied. When the child is placed in the seat, put the stuffed animal or toy in the front passenger seat. It's a visual reminder that anytime the stuffed animal or toy is up front you know the child is in the back seat in a child safety seat.
"We launched this program in 1991 to educate caregivers about the severe dangers of leaving children in unattended vehicles or mistakenly locking a child in an automobile," said Don Marks, CEO of Pop-A-Lock. "By using our expertise in the security industry, we are able to quickly and efficiently remove children from harm. This program is one of the numerous ways we give back to the community."
For more information about Pop-A-Lock, Pop-A-Lock's Summer Safety Educational Awareness Series, or the PALSavesKids Emergency Door Unlock Program, please visit: http://www.popalock.com/ and follow us on Facebook and Twitter (@popalock).
About Pop-A-Lock
Pop-A-Lock™ is the most trusted team of security professionals in the nation. It was founded in 1991, in Lafayette, Louisiana by two law enforcement officials who recognized the need for security services in their area. Since then, the company has grown to serve 8,500 communities throughout the U.S. and Canada, providing advanced technology security services, locksmithing, roadside assistance, and free security audit information for businesses, homes, and schools. All Pop-A-Lock technicians are trained in the latest technology and have cleared background and drug tests. Look for our technicians in their easy to identify orange and black uniforms and vehicles.