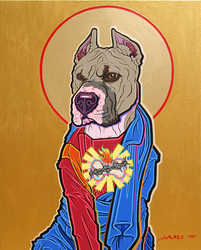 an epidemic of animal abuse and neglect
Port Clinton, Ohio (PRWEB) August 14, 2007
"There are no bad dogs, just bad people" is a saying that resonates with pop artist Nathan Janes. After several years of working closely with dogs and pet guardians, Janes has witnessed the effects of what he calls, "an epidemic of animal abuse and neglect" and has been moved to make an artistic statement. As a response to the persistent problem, he has completed an original acrylic pop piece titled "One Nation Under Dog."
The release of Janes' latest work comes at a time when Americans are becoming more aware of the prevalence of animal abuse. In recent weeks, the attention of Americans has been captured by accusations of dog fighting brought against NFL football player, Michael Vick. Janes says that this current event in combination with the abuse of dogs that happens every day has prompted him to portray the pit bull breed in a more gentle light. Janes has received strong feedback about his recently completed piece from a number of pit bull rescue groups who welcome the positive portrayal of a breed that is too often depicted as vicious and dangerous.
The painting, reminiscent of monastery icon artwork, depicts a saintly mutt deep in reflection, adorned with a glowing halo, sacred bone, and holy garb. Janes says, "I think we would all be much better off if more people possessed the same innocence and love that I often see in dogs." Making the connection between the phrase from the Pledge of Allegiance and his painting title, Janes remarks with a smile, "If we were 'One Nation Under Dog' we might be a country where more decisions were based on compassion and peace rather than greed and violence."
"One Nation Under Dog" is one painting of a series that Pop ARF will be releasing throughout the coming months. Janes has revealed that these works will likely get people talking as the images are quite powerful and go beyond what many people usually expect from "dog art." According to Janes, "Now more than ever I am striving to push my work so that dogs are used as an artistic tool to depict deeper questions and messages about our society."
About the Artist, Nathan Janes:
Nathan Janes is becoming increasingly known in the world of art for his pop stylings of dogs, which have come to be known as "Pop ARF". In addition to his artwork appearing in numerous national publications, Janes' work has also appeared in Canada, Australia, Japan, the Netherlands, and the United Kingdom. In 2005, Janes was named "Emerging Artist and Trendsetter" by Art Business News, the largest trade publication in the US. Janes has made a personal commitment to support the humane treatment of animals through the creation of his work as well as through the support and promotion of several animal rescue organizations across the country.
For more information, please visit: http://www.poparf.com
###