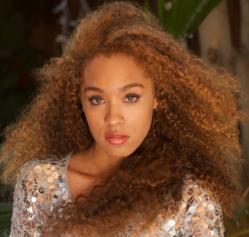 I feel really blessed to join PopConLA. There will be a lot of music enthusiasts there who I want to entertain and inspire with my music
Los Angeles, CA (PRWEB) June 30, 2012
Talented songstress Zhavea is determined to bring music fans to their feet when she takes the stage July 7 at 8:00 PM, at PopConLA, a grand four-day entertainment event that will be held at the Los Angeles Convention Center beginning July 5 through July 8. The PopConLA and ITVFest events will have a Red Carpet celebration when it kicks off July 5, with a host of celebrities and various entertainers in attendance. PopConLA is sponsored by LA Weekly.
Zhavea's upcoming performance at PopConLA is one of several recent performances and appearances she has made. The R&B/Pop singer has been busy since the new year began, putting the finishing touches on her upcoming album and attracting media attention. Zhavea recently released her fourth single "Moment of Clarity". She also caught the attention of Sparxx Vizion, participating in an exclusive interview with DJ Steel of Sparxx Vizion to discuss her music career and upcoming plans.
"I feel really blessed to join PopConLA. There will be a lot of music enthusiasts there who I want to entertain and inspire with my music," said Zhavea. "It's a tremendous event that I am really looking forward to joining on July 7. I definitely plan to make a lasting impression when I perform there and hopefully gain some new fans," she added.
Zhavea's fans can purchase tickets to the event at the PopConLA website and enter Zhavea123 for a discount to attend.
For more information about Zhavea, her upcoming album and performances, visit http://www.zhavea.com. She can also be followed online at Facebook.com/Zhavea and on Twitter.com/ZhaveaArtist.
Also, her music videos can be watched on her YouTube channel at http://www.youtube.com/user/ZhaveaArtistPage.
For Media, Interviews and Booking Appearances, please contact:
Yvette Morales
YM & Associates
PR | Marketing | Branding | Business Development
California | New York
949.244.9769 | 310.499.0906 Fax
YMoralesY(at)YM-PR.com
YM-PR.com
Twitter @YMTheBevHillsPR