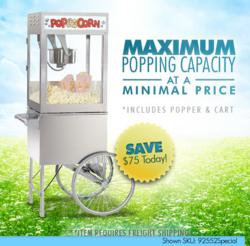 My husband and I have been eating Snappy Time popcorn for over a year now. It's our new favorite!
Breda, Iowa (PRWEB) August 22, 2012
Snappy Popcorn wants to help everyone squeeze the most fun into the last weeks of summer with amazing specials good during the month of August. With state fairs, parades and other events going on all over the country, it's a great time to purchase popcorn machines, snowcone machines and other concession supplies.
Snappy Popcorn http://www.snappypopcorn.com is family owned and the popcorn has been grown on family farms for over 60 years. Customers love its flavor.
"My husband and I have been eating Snappy Time popcorn for over a year now. It's our new favorite! I was wondering why the texture of the popcorn is so great. I started doing some research and found Snappy Time is made right here in the state I live in, Iowa! No wonder it's fantastic! I'd love to take my kids on a factory tour someday, if you have them!!" said Tisa Carlson.
Serve Snappy Popcorn and take advantage of special pricing for the month of August.
1. Fun Pop Popcorn Machine - save $30
This is an economical 8 oz. Popcorn Machine, called the Fun Pop 8 oz. Features a large 8 oz. EZ Kleen stainless steel kittle, twin arm kettle suspension and removable kettle, as well as a heated corn deck and an unpopped kernal tray. The Fun Pop will pop 8 oz. of popcorn every 4-5 minutes. Includes free shipping also. **Purchase of cart required to receive special pricing**
2. Snappy Buttery Canola Oil - save $2
This canola oil for popping popcorn is low in saturated fat and a healthy alternative to coconut and peanut oils. Great buttery flavor and no refrigeration required.
3. Popcorn Scoop - save $3
This is a Professional Aluminum Popcorn Scoop that works great with any of SnappyPop's popcorn popping machines. For a professional look and long lasting durability, this scoop can't be beat.
4. Snappy Shakers Cheddar Cheese - save $2
Create the classic taste of cheese popcorn with popcorn flavoring including this flavorful Cheddar Cheese. 8.5 oz.
See the Snappy Popcorn website for the full list of specials.
About Us
There are many different companies online offering popcorn machines and concessions, but Snappy Popcorn is different. We are a third-generation company that has grown and sold popcorn since 1940. We grow, process, and raise much of our popcorn in the fertile fields of Iowa.
Our popcorn is always the best-tasting popcorn you¹ll try because it is fresh. Popcorn is all we process in our plant, meaning that we've specialized our trade to ensure you the best product possible. Through the years we have become one of the largest concessions dealers in the U.S. Our strong customer service, quality machines, tasty products and great prices make us the leaders in the industry. Our sales staff is personable, helpful and here to serve you!
Feel free to call our friendly associates at 800-742-0228 or visit our website at http://www.snappypopcorn.com or on Facebook at https://www.facebook.com/snappypopcorn