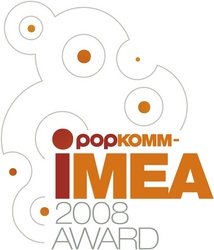 BERLIN (PRWEB) September 10, 2008
Julie Meyer, founder of First-Tuesday.
Michael Bornhäusser, a pioneer in commercial radio and software entrepreneur.
Charles Grimsdale, founder of OD2 and technology investor
More details about each of the six finalists:
BMAT (Spain) has developed technology which rates singers. The technology offers a graphic presentation of various rated features such as pitch contours, note segmentation and vibrato, thereby assisting the user to improve their vocal technique.
Independent IP (Netherlands) has developed the FUGA business-to-business platform to distribute digital content including audio tracks, videos and cover art etc.
Kyte (USA) is a mobile and online platform which enables everyone, from consumers to the media to entertainment groups, to produce and distribute digital content, live or on-demand, via the internet, social networks or cell phones.
Rawrip (USA) is a website where users discover new music via The Rippler search engine, and which guarantees artists and record labels 100% of all revenues from the music sales.
roccatune (Germany) is a free full on-demand music portal offering over a million tracks from such well-known performers as Robbie Williams, R.E.M., Mariah Carey and the Rolling Stones.
The Filter (UK) is the brainchild of Grammy winner Peter Gabriel – a search engine that can filter entertainment and information from around the world to create recommendations for users.
Each of the six finalists will receive coaching from the panel of experts to enable the candidates to be well prepared for the presentations at the finalists' screening sessions on 8 October at the Popkomm conference centre, room 1 / Hong Kong. It will then be up to the audience to choose the winner, who will receive a free stand together with accreditation at Popkomm 2009, a cash prize of EUR 3,000 and, of course, plenty of publicity, as well as media and public exposure.
Popkomm
As an international platform for the music and entertainment industry Popkomm attracts thousands of trade visitors from all over the world. What makes Popkomm so unique is the integrated concept of this event. Popkomm is the only industry meeting place in the world that combines a trade show with a conference and a festival. Consequently Popkomm is a major attraction not only for its core business of music but also because it brings the representatives of other sectors such as concerts, the movies, mobile entertainment and advertising to the exhibition halls in Berlin. The fifth Popkomm is taking place in Berlin in 2008, from 8 to 10 October. It is organised by Popkomm GmbH, Berlin. This year the partner country at Popkomm is Turkey.
Music Ally
Music Ally is the world's leading digital music agency, offering services including business consultancy and research, consumer behaviour, publications and data provision, training, digital marketing services and events. Clients include Universal Music, Orange, Tesco and BBC, among others. Several thousand CEOs and senior executives all over the world, including those of the three biggest record companies, read the Music Ally information service. More recently Music Ally launched the first regular digital music blog in Spanish at http://www.aliadodigital.com.
http://www.TheLeadingQuestion.com
Media partners of the Popkomm IMEA 2008: Billboard (USA), Musikmarkt (GER)
This press release can also be found on the internet: