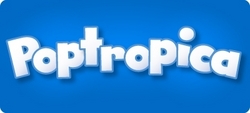 With our Poptropica Game Cards available at one of the country's largest retailers, parents who don't have access to a credit card now have an easy way to purchase Memberships or Credits for their kids
Boston, MA (PRWEB) September 7, 2010
Poptropica Game Cards are now available for purchase at more than 1,100 Target stores across the United States. For just $10, the prepaid cards are redeemable for Membership to the site or for Credits to use in the Poptropica Store.
"With our Poptropica Game Cards available at one of the country's largest retailers, parents who don't have access to a credit card now have an easy way to purchase Memberships or Credits for their kids," said Jess M. Brallier, publisher of Poptropica. "The economically priced gift cards offer a great birthday or holiday gift for a fan of Poptropica, and the visibility of the cards at Target gives us a tremendous opportunity to reach new players looking for a fun, safe and secure online world."
Once the prepaid game gift card is activated on Poptropica.com, kids who choose Membership receive exclusive Early Access to new Islands, such as the recently launched "Steamworks Island," as well as unlimited use of all costumes and Gold Cards in the Poptropica Store. Players who select Credits can instantly redeem them for costumes and Gold Cards in the Poptropica Store. Gold Cards allow kids to customize their Poptropicans with special abilities and effects such as electrifying their Poptropican, creating a meteor shower, spraying silly stream and much more.
Currently, there are 14 Poptropica Islands with intricate stories for kids to explore, with many more planned for release in the future.
About Poptropica (http://www.poptropica.com)
Poptropica is a virtual world in which kids explore and play in complete safety. Every month, millions of kids from around the world are entertained and informed by Poptropica's engaging quests, stories and games. Kids create a "Poptropican" character to travel the many islands of Poptropica and use gaming literacy to enjoy a narrative that is often rooted in factual history. Problem-solving skills are honed as kids discover and solve mysteries unique to each island.
There are always new areas to explore in this ever-expanding world where kids can collect objects, read digital books and comics, watch movies and compete in head-to-head competition. Parents can always trust that their children are playing - and learning - in a safe online environment. Poptropica is published by Family Education Network, a part of Pearson, the education, services and technology company. Pearson's other primary operations include the Financial Times Group and the Penguin Group.
###