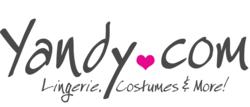 We try to offer our customers something they would never think of on their own to be a sexy Halloween costume...
Phoenix, AZ (PRWEB) September 28, 2012
For some, Halloween is synonymous with bobbing for apples, carving jack-o-lanterns and snacking on bite size candy, but for others, Halloween is all about dressing up in the most unique, sexy and outrageous costumes around and at Yandy.com, online retailer of adult Halloween costumes, customers can do just that. Yandy offers more than 2,500 standard and plus size costumes with the most unique of the bunch only found at Yandy.com.
Year after year, Yandy sees certain costumes take off and gain in popularity, some of which shock even some of the companies main players. "We go in to each Halloween thinking one costume or another is going to blow every other costume out of the water and then here comes some random costume from left field and completely takes us all by surprise," said Chad Horstman, CEO of Yandy.com.
For Yandy, it seems the most popular and highest selling costumes are those that are exclusively found at the site, which is good news for the ecommerce site since they dedicate a large part of their year in to creating one of kind costumes. "We try to offer our customers something they would never think of on their own to be a sexy Halloween costume but once they see it they can't believe they hadn't thought of it before," said Horstman.
With so many unique costumes to choose from, Yandy offers customers a list of the most popular exclusive costumes to date:
1.SWAT Hottie Costume
2. Sexy Fox Costume
3. Sexy Watermelon Costume
4. Statue of Liberty Costume
5. Sexy Panda Costume
While these are some of the most popular costumes at Yandy, it is most certainly not a conclusive list. Other popular, one-of-a-kind costumes at Yandy include the Parrot Princess Costume, Sexy Polar Bear Costume, Sexy Banana Costume, officially licensed Tootsie Roll Costume and the Deluxe Striped Pirate Costume to round up the top ten.
With that said, this list does not include Yandy's new 2012 exclusive costumes of which customers are sure to show increased interest in, yet again. "We don't want to give away all of our secrets just yet but we can say that this Halloween shoppers looking for something colorful and furry with a nod to their childhood definitely find it at Yandy," said Horstman. What Horstman can say is that all of Yandy's exclusive costumes are limited edition runs which means when they sell out, and they often sell out fast, that is all there is.
Yandy does not stop at offering a wide selection of distinctive costumes for customers. When shopping at Yandy, customers can receive free, flat rate shipping on all orders over $70 and each order gets a free panty gift. In addition, Yandy offers fast, same day shipping so all orders are received in a quick and timely manner.
For those looking for something a little out of the ordinary this Halloween, Yandy.com is the place to shop for that unique sexy costume this year.
About Yandy.com
E-commerce is on the rise and Yandy.com is one of the largest online retailers of lingerie, sexy Halloween costumes, swimwear and clothing on the web. Founded in 2003, Yandy boasts more than 6,500 products always in stock at easily affordable prices. Yandy ensures that every customer will receive a safe, secure and private online shopping experience and is backed by COMODO online security and Google Checkout. Yandy is dedicated to customer service and only sells what is in stock which allows for quick, same day shipping. Offering the highest quality products at the most affordable prices in the market, Yandy has become a leader in ecommerce. Yandy works closely with all of the manufacturers they distribute for and hand select all of the items on the Web site to ensure customers have the largest and most diverse collection to choose from. In addition, the customer service team at Yandy is unrivaled. With attentive and helpful operators, should a question or problem arise, the customer service team at Yandy is always willing and able to assist. At Yandy, every customer can Be Sexy.
###