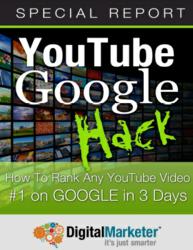 Over 100 hours of research and analysis went into developing this report, and Digital Marketer has always been on the cutting edge of what's working now in the industry.
Austin, TX (PRWEB) January 29, 2013
Popular YouTube videos are being cranked out on a daily basis, said a new article from DigitalMarketer.com. Thanks to Digital Marketer's YouTube Google Hack Special Report, the article said people are learning how to rank their YouTube videos number one on Google, no matter what the subject matter.
The video sharing site is such a dynamic, comprehensive collection of engaging content, that marketers are starting to realize a YouTube presence equals internet recognition gold, according to the DigitalMarketer.com piece.
The YouTube Google Hack isn't a bunch of dark and shady ways of manipulating the Google search system, but the article said it produces the kind of results marketers would expect from unauthorized tactics. In reality, the report shares perfectly legitimate digital marketing techniques that use the power of YouTube and its affiliation with Google to boost search engine optimization.
YouTube and Google are joined at the hip, and the online video revolution is only gaining momentum, said the article. When an average web surfer searches for something that interests them, it's proven that they are far more likely to click a link that takes them to a video than one that takes them to text. The article said videos are outperforming any other form of content online, and the number one source of all that content is YouTube.
A business-made YouTube video doesn't have to be a commercial advertisement, explained the article. The YouTube Google Hack explains how to create training and review videos, perfect for informing viewers on a subject and then leading them to a website or affiliate where they can find the products for sale.
The article said the greatest part of the YouTube phenomenon is the ease of video creation, thanks to modern computer technology and basic internet connections. The YouTube Google Hack shows how to make text, Powerpoint, images, and even faceless videos with little to no experience.
The optimization of YouTube descriptions and search tags make Google search results almost automatic, the DigitalMarketer.com article said. It's here where the YouTube Google Hack report shares essential information on the best ways to help web searchers find the right content.
Over 100 hours of research and analysis went into developing this report, and Digital Marketer has always been on the cutting edge of what's working now in the industry.
Digital Marketer releases informational and educational materials to help businesses and entrepreneurs gain insight and information on the trends, data, and strategies that can take them to the top of their industry. Through their RAW Training courses, strategic plans, blogs, newsletters, site reviews, and Special Reports, Digital Marketer supercharges every single marketing campaign it touches. For more information, visit DigitalMarketer.com.
Generating content that addresses a problem and helps people learn how they can solve it is what YouTube video production does best, said the DigitalMarketer.com article. Capturing the leads, making the sales, and generating the traffic become much easier when a company creates popular YouTube videos, so the article suggested accessing the YouTube Google Hack report today.