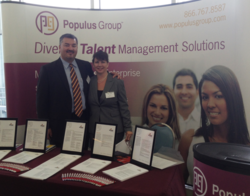 Troy, MI (PRWEB) August 09, 2012
Populus Group, a certified Minority Business Enterprise (MBE) and talent management solutions provider, will be speaking at the HR.com virtual conference (Click here to register), on August 15, 2012 from 3:30 - 4:30 PM ET. The theme for this conference is "Contract Workforce and Talent Exchanges."
Populus Group, a Northwest MSDC certified MBE, will be speaking about The Next Generation of Contingent Workforce Supply Base Strategies. This webinar presentation will discuss strategies for Statement of Work programs, such as independent contractor compliance and risk mitigation. In addition, Populus Group will educate the audience on how to engage foreign nationals for contingent positions and what they'll need to know about this labor pool as well as a review of best practices in supplier base design such as diversity initiatives, payroll services, and best practices across contracting.
The panel will review strategies for continuous process improvement and how to continually evolve a client supply base to be in the forefront on the "War for Talent." In addition, the audience will learn how to identify areas of risk for their company, how to build a business case for risk mitigation, and how to calculate the costs of misclassification for their company.
Populus Group will also have a virtual exhibit booth where attendees can learn about its Integrated Workforce Management Framework (IWMF). This comprehensive suite of flexible and customizable workforce engagement solutions quickly enhances customer's abilities to attract and retain top talent while mitigating risks when engaging contractors and vendors.
"This is our second year of presenting on behalf of HR.com and we appreciate the opportunity to be able to provide valuable information to the HR community in regards to the landscape of risk mitigation, IC compliance and how to engage with foreign nationals," said Shannon Kirk, Director of Marketing at Populus Group. "We look forward to continuing to partner and network within this landscape."
Populus Group will be presenting the following speakers:
Maria Goyer is the Vice President of Business Solutions for Populus Group, where she is responsible for designing global contingent workforce management programs with clients including statement of work management, and independent contractor compliance programs.
Tom Mehl is Vice President of Operations for Populus Group where he is responsible for the overall organizational health of Populus Group as well as all operational aspects of the organization, from business development, legal, human resources, accounting and finance, treasury, IT, and shared services are influenced by Tom's leadership.
Anita Maguet is the Director of Immigration Operations for Populus Group, LLC. Ms. Maguet manages immigration teams that help customers facilitate and execute immigration employment strategies.
About Populus Group - Founded in 2002, Populus Group is a privately held Minority Business Enterprise (MBE), certified in 50 states, providing diverse talent management solutions. Corporate headquarters are located in Troy, Michigan with additional office locations in Seattle, Baltimore, Chicago, Atlanta, Philadelphia, Phoenix, San Francisco, and Portland. Populus Group has been successful at helping clients meet their diversity spend initiatives, while at the same time driving innovation and ensuring that the overall change management is seamless to the client's entire organization. To learn more about Populus Group, visit http://www.populusgroup.com.
Contact: Shannon Kirk, Populus Group Director of Marketing
Phone: 425-372-1251
E-mail: skirk(at)populusgroup(dot)com