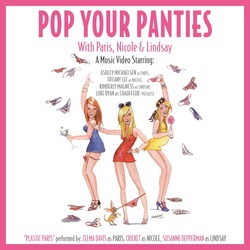 Fun, tongue in cheek and get's racy in spots
New York, NY (PRWEB) February 19, 2008
Stuart Alson, Executive Director of New York International Independent Film and Video Festival - NYIIFVF has selected 'Pop Your Panties with Paris, Nicole & Lindsay', a celebrity parody music video produced by Itsi Atkins and Lisa Nusbaum for exhibition at the New York and Los Angeles 2008 festivals. The opening night screening has sold out, but festival officials have scheduled a second screening for Saturday March 1st at 8pm.
The selection panel gave 'Pop Your Panties' an overall excellent review; saying "Shot on DVD with pretty good image quality", "Effects work, given the satirical edge!", "Short music video parody that is very interesting to watch", and "Fun, tongue in cheek and get's racy in spots".
Itsi Atkins, filmmaker and visual activist produces films in the form of a Parody - 'imitation with a difference' according to Wikipedia. His social activism wrestles with the most important issues of the day - war, natural disaster, political ignorance - as well as pop culture's obsession with the rise and fall of celebrities. In its guise as 'imitation' it uses the visual imagery, personae, and content of a media event - but its 'difference' is in its irreverent commentary that highlights the underlying tragedy. Itsi's art makes itself look like the real thing it parodies, but his authentic motivation is to have the viewer see the comic side - laugh - and experience the truth without the pain.
'Plastic Paris', the featured song, is performed by Susanne Depperman, Cricket and Luke Ryan. The 'Pop Your Panties' music video parodies three famous gossip tabloid queens singing the catchy tune of country western classic 'Plastic Jesus'. The twist of the song 'Plastic Paris' being that Paris' spiritual revelation entitles her to be represented as a religious icon. The video stars celebrity looks-a-likes, sexy and scandalous, who profess to reform their selfish ways, go to rehab and promise to support charity. Their unique concept is to have fans - 'Pop Your Panties' - sell them on the street or at auction and give the money 'to a good cause'. How far will the trio's egotism, drive for self-promotion, greed and hypocrisy go? We will know when Itsi, produces more 'Parodies for Charities', possibly in the sequel.
'Pop Your Panties' is directed by Victor Geheimnis, starring Ashley Michaelsen as Paris, Tiffany Lee as Nicole, Kimberly Magness as Lindsay and Luke Ryan as the singing Chauffeur.
Parody4Charity is a group of dedicated volunteers who believe 'charity begins at home'. 'Pop Your Panties' was produced by Itsi Atkins and Lisa Nusbaum to help Media 4 Humanity, a NY based organization working to eradicate child slavery in America. Media4Humanity's founder Melanie Siben explains, "This issue needs attention. If Mr. Atkins can draw that attention with his salacious video, then God bless him!"
NYIIFVF is the largest film festival in the world and features film and videos by artists around the world. The festival is known as 'the voice for independent film' and receives extensive coverage in all major media. The 'Pop Your Panties' music video will have its worldwide premier in New York on Feb. 29, 2008 and will be available on the web. Plastic Paris is presently on iTunes and the video will soon be available throughout the World Wide Web.
# # #