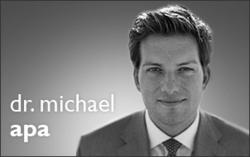 Dr. Michael Apa is redefining modern dentistry.
New York, NY (PRWEB) July 31, 2012
Watch new Video footage of Dr. Michael Apa's New Anti aging approach to smile design .http://www.mevio.com/episode/317377/meet-cosmetic-dentist-to-the-stars-dr Apa.
In the highly specialized field of aesthetic dentistry there are quite a few skillful dentists, but very few true artists. Dr. Michael Apa both trendsetter and artist uses customized porcelain veneers to rejuvenate his patients smiles creating an extremely natural and youthful looking smile for his patients.
Dr. Apa practices both in New York City and in Dubai and he is redefining modern dentistry raising the bar of skillfull dentistry to the level of dental art. Facial Aesthetic Design or "FAD" is his pioneering approach to crafting a natural-looking smile, eliminating imperfections and creating a symmetry that ensures each facial feature works together for a harmonious whole.
A graduate of New York University College of Dentistry. His unique expertise makes him a sought-after dental authority, and he has been featured in Esquire, Harpers Bazaar, Vogue, Departures, Gotham, Self, Redbook, More, Forbes and Allure magazines and in numerous television appearances as well such as the Today's Show, Tyra Show and Extra. Dr. Apa lectures world wide on Aesthetic and Restorative Dentistry to the dental community.