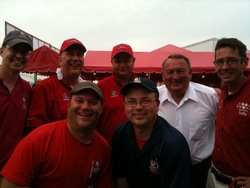 "We were happy to share [the experience with] BBQ legend and 3-time World Champion Pat Burke, pitmaster of the Tower Rock BBQ Team, and Tuffy Stone, of the Cool Smoke Team and BBQ Pitmasters fame." Heath Hall, co-founder of Pork Barrel BBQ
Washington, DC (PRWEB) May 17, 2010
Pork Barrel BBQ today announced their Competition BBQ Team results in multiple categories at the 2010 Memphis in May World Championship Barbecue Cooking Contest.
As first-time Memphis in May competitors Pork Barrel BBQ is proud to have been recognized as one of the top teams in the world-renowned BBQ contest. The Pork Barrel BBQ Competition Team participated with over 250 of the world's best competition BBQ teams during the Memphis in May contest.
Pork Barrel BBQ took fourth place in the Beef contest for their brisket and won over the taste buds of judges with their new Pork Barrel BBQ Mustard Sauce, which placed seventh in the Mustard Sauce contest. The team's grilled seafood gumbo entry placed 14th in the Seafood contest. All of the team's entries were prepared using Pork Barrel BBQ products including their All American Spice Rub and Pork Barrel BBQ Sauces. These products are available at stores throughout the nation, including Whole Foods, Harris Teeter, Schnucks, Ukrops, Bloom, and Balducci's Food Lover's Market. Folks will soon be able to sample Pork Barrel BBQ's award winning barbeque at the first Pork Barrel BBQ Restaurant, currently under construction in the Del Ray neighborhood of Alexandria, Virginia and scheduled to open later this summer.
The Pork Barrel BBQ Competition Team is the first BBQ competitor to use Iberico de Bellota pork, a premium and unique meat from purebred Spanish heritage swine. Wagshal's, the exclusive distributor of Iberico in the United States, sponsors the competition team and supplies them with meat and seafood for BBQ contests throughout the year. For the recent Memphis in May competition, the team submitted a venison loin wrapped in Iberico that placed 12th in the Exotic contest.
"It was a tremendous honor to have been selected to participate in Memphis in May, the world championship of BBQ competitions," said Heath Hall, co-founder of Pork Barrel BBQ. "Placing in the top 15 in four categories at our first Memphis in May is something beyond our wildest dreams. We are thankful to Wagshal's for sponsoring us and giving us an edge over the competition by providing us with their premium meats and seafoods. It was an incredible experience that we were happy to share with thousands of BBQ enthusiasts, and our friendly competitors like BBQ legend and three time World Champion Pat Burke, pitmaster of the Tower Rock BBQ Team, and Tuffy Stone, of the Cool Smoke Team and BBQ Pitmasters fame."
During the four-day competition, the team captured several behind-the-scenes videos with several well-known BBQ pitmasters and other seasoned professionals. Those following Pork Barrel BBQ on their social media outlets, including Facebook, Twitter and the company's blog, can expect a variety of BBQ tips and grilling insights in the coming months.
For more information or to locate a store near you that offers Pork Barrel BBQ products, visit http://www.porkbarrelbbq.com.
About Pork Barrel BBQ
Pork Barrel BBQ was founded in December 2008 during the peak of the economic crisis to prove that a company not owned or operated by the federal government could succeed, and that if you had a good idea, it was still possible to grab a piece of the American Dream. Pork Barrel BBQ founders, Heath Hall and Brett Thompson, ran the company out of the basement of their houses, selling their award winning BBQ one bottle at a time. One year later, their Pork Barrel BBQ Sauces and Spice Rub are on pace to be carried in over 1,000 stores in 40 states by summer 2010. Throughout their journey, they have stayed true to their mission – to unite the nation through the great tradition of BBQ, and bring bipartisan flavor to your next meal. The Pork Barrel BBQ Competition Team entered its first contest, The Safeway National Capital Barbecue Battle, in June 2009, and walked away with two trophies – Second Place in the "Nations Best BBQ Sauce Contest" and Fourth Place for their pulled pork in the Memphis In May portion of the contest. For more information, visit http://www.PorkBarrelBBQ.com.
# # #