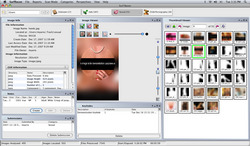 By leveraging the IFID, SurfRecon LE not only makes the 'haystack' smaller, but finds many of the 'needles' for you, leaving far fewer images that must be manually processed
Orem, UT (PRWEB) December 19, 2007
SurfRecon, Inc. announced today the public beta of its new SurfRecon LE (Law Enforcement Edition) first-responder and rapid-image-analysis forensic tool. The tool allows law-enforcement agents and other individuals to rapidly analyze, detect, review, and report on any pornographic content--including child pornography--that may exist on a suspect computer.
"We are very excited to finally offer the software to the law enforcement community," said Matthew Yarro, VP of Marketing for SurfRecon, Inc. "We think it is an invaluable tool--The application fits on a thumb drive, is very easy to use, and works on almost any Windows®, Linux®, or Apple® computer."
The public beta starts January 3rd. Those interested in participating in the public beta should visit the SurfRecon website at http://www.surfrecon.com/beta.php to sign up.
About SurfRecon LE
SurfRecon LE is comprised of two parts: a software application and a backend database of image hashes. The software application is a cross-platform, Java-based program that runs on almost any Windows®, Linux®, or Apple® computer. It can be used to perform quick consent searches, as well as deep forensic analyses, in a quick, efficient, and accurate way. The second part is the International Forensic Image-Hash Database (IFID). This is a database of millions of known safe, sexual, pornographic, and child-pornographic image hashes that can be referenced every time SurfRecon LE performs a scan.
Whether you are running a consent search or a deeper forensic analysis, as SurfRecon analyzes the content of a suspect computer, it first discovers any existing images and then matches the hashes for those images to previously categorized image hashes contained in the IFID. As the application scans a drive it pre-categorizes the images as "safe", "sexual", or "child pornography."
To date, the IFID contains over 5 million image hashes and is growing rapidly. "By leveraging the IFID, SurfRecon LE not only makes the 'haystack' smaller, but finds many of the 'needles' for you, leaving far fewer images that must be manually processed," said Matthew Yarro.
Protecting Your Most Important Assets
Most importantly, SurfRecon contains several tools that minimize the impact of repeated exposure to pornographic and child-pornographic images. By using the obfuscation tools, SurfRecon hopes to preserve the mental health of those individuals who must view these disturbing images and enhance their ability to quickly scan, review, and identify illegal content.
"No one wants to be the person that has to look at this garbage, but someone has to do it. We made the blurring tool, digital keyholes, and the collaboration tools to help law-enforcement agents minimize their exposure to pornographic content," said Matthew Yarro, "Hopefully by managing the impact, we protect individuals, their families, and the investment that an organization has made in them."
A demonstration of SurfRecon LE is available at http://www.surfrecon.com.
About SurfRecon
SurfRecon, Inc. is dedicated to developing innovative tools to support law-enforcement in their efforts to catch and prosecute criminal sex offenders and child pornographers. These same tools are available to IT departments who want to keep pornography out of their environments.
Most importantly, SurfRecon, Inc. is dedicated to developing tools that minimize the harmful effects that repeated exposure to pornography can cause.
# # #