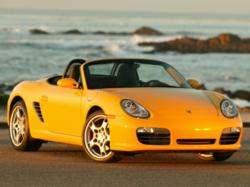 Gaadi.com Reports about Porsche Boxster
(PRWEB) June 20, 2013
The all new 2013 edition of Porsche Boxster is all set to hit the Indian roads with the aim of outdoing the outgoing model.
India's leading online portal for posting the particulars about used and new cars, Gaadi.com believes that the all new version of Porsche Boxster is going to weigh lighter than the existing model. Also, this sports brat will exhibit a longer wheelbase along with a wider track and larger wheels.
Gaadi.com also feels that the forthcoming version of Porsche Boxster will display a universal audio interface incorporated with MP3 connectivity. Also, the audio CD structure will exhibit a 7 inch color touch screen control and Porsche Boxster will be mounted on 19 inch alloy wheels.
Performance-wise, the 2013 edition of Porsche Boxster will put up a 2.7L petrol based engine that will generate 265 bhp of peak power. Other than that, the Boxster S will exhibit a 3.4L petrol engine that will generate a peak power of 315 bhp.
Gaadi.com also observes that the latest model of this sports car is expected to challenge BMW Z4, Nissan 370Z and Mercedes SLK post its launch in India. On the contrary, Porsche Boxster has already raised the level of all standards in the Indian market.
Complete specifications, features, in-depth reviews of the test drive from selected Indian journalists and user reviews along with some amazing pictures of Porsche Boxster can be located on a detailed page unveiled by Gaadi.com.
About The Company:
Gaadi.com is the leading online automotive marketplace that brings car buyers and car sellers together. New car buyers can research their car purchase while used car buyers can browse through the largest collection of inventory online. Serving as the best resource for new car research in India, it provides users with information, opinions & tools that ease the process of finding a suitable car. The used car marketplace of Gaadi.com is the best in online space with a comprehensively curated and photographed stock of used cars. It provides a transparent and reliable platform for used car listings with detailed information for used car buyers.
Visit http://www.gaadi.com/Porsche-Boxster to know more about Porsche Boxster at Gaadi.com