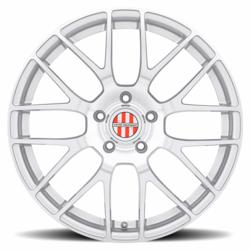 Victor Equipment wheels are designed exclusively for Porsche vehicles and are engineered to fit perfectly.
Huntington Beach, CA (PRWEB) April 09, 2012
Porsche vehicles have always been associated with German precision engineering and auto racing dominance. The new Innsbruck Porsche wheels from Victor Equipment proudly herald that heritage with a unique combination of light weight, strength and functional good looks.
Innsbruck Porsche wheels are manufactured using a computer-controlled production breakthrough called to rotary forging. Rotary forging shapes the wheel under high pressure while it is spinning at high speed. Centrifugal forces alter the molecular structure of the alloy, creating a wheel with an uncommon combination of strength and low weight compared to conventionally cast wheels. Because the preponderance of the weight saving is in the outer perimeter of the wheel, rotary forging dramatically reduces rotational mass, improving vehicle performance. Precision-engineered Innsbruck Porsche rims are available in sizes from 18" to 22" .
"Porsche has been racing-driven from the start. And it's first racing victory, dating to 1948, came from the Austrian village of Innsbruck," explained Victor Equipment president with Formula driving heritage Terence Scheckter. "So it was natural for us to name this latest achievement in our lineup of Porsche wheels after that victory," Scheckter added, "Victor Equipment wheels are designed exclusively for Porsche vehicles and are engineered to fit perfectly."
The Innsbruck bold mesh design features eight paired spokes to enhance its dual qualities of light weight and impressive strength. So in addition to providing Porsche Cayman wheels and Porsche Boxster wheels for those agile sport cars, the Innsbruck is also available in a 22 inch as Porsche Cayenne wheels, meeting the requirements of that heavier, more demanding SUV platform. Of course, the Innsbruck looks right at home on the full range of 911 models, including Turbos and the aggressive GT3 and GT2.. The Innsbruck is available in both classic Silver, with a mirror-cut face, and in aggressive Matte Black.
All wheels are hub-centric, to ensure a smooth, vibration-free ride.
Pull into the "virtual garage" at http://www.victorequipmentwheels.com/porsche-wheels-configurator to visualize how the Innsbruck Porsche wheel will look on your Porsche. Select model, trim and even the color of your vehicle, then "try on" the Victor Equipment wheels of your choice.
Victor Equipment Porsche wheels are available in a wide range of staggered fitments. A staggered fitment basically means deploying larger wheels on the back of your Porsche vehicle than in the front, for example 19x8 on the front and 19x9.5 on the rear. Running wider rims on the drive wheels means more grip on acceleration. You can check out full size and other technical details for the complete Victor Equipment family of Porsche rims on the Victor Equipment Wheels website.
Victor Equipment wheels are part of the TSW family of aftermarket wheel companies. TSW wheels are born of a rich racing heritage. Founded by a former Formula One racing driver, TSW has been involved in motor racing around the globe for over 30 years.
For a dealer near you, in the U.S. or Canada, call 1 888-766-7775 or visit Victor Equipment Wheels on the web at on the web at victorequipmentwheels.com. Victor Equipment Porsche wheel dealers are located throughout North America and worldwide, including Discount Tire Direct on the web at discounttiredirect.com/.