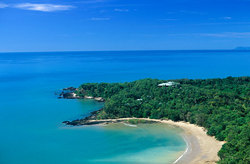 We're very proud of what Thala stands for in an environmentally conscious modern world and we like to share Thala's experience and philosophy with our guests
(PRWEB) May 8, 2008
Thala Beach Lodge is giving away Port Douglas Accommodation to celebrate its 10th birthday. Thala is aiming to encourage guests to come celebrate with them by offering a free nights accommodation with the first 100 bookings received.
Located just South of Port Douglas in North Queensland, Australia Thala Beach Lodge is a five star eco resort providing a luxury experience to guests.
"We would like to encourage previous and new guests to stay with us and enjoy a complimentary night." says Thala Beach Lodge owner/operator Rob Prettejohn. "When we built Thala we knew it was a special place - with a thriving population of wildlife and a unique location between World Heritage tropical rainforest and the Great Barrier Reef."
In the early 1970's Thala's owners Rob and Oonagh Prettejohn purchased the 145 acre Peninsula jutting out into the Coral Sea where rainforest spills down from the Great Dividing Range.
At the time Thala had only 45 acres of original forest. The remaining land had been cleared years before and was a degraded, unsustainable, near forgotten sugar cane plantation.
"We're very proud of what Thala stands for in an environmentally conscious modern world and we like to share Thala's experience and philosophy with our guests," Robert Prettejohn says.
Over 30 years Rob and Oonagh shepherded the re-establishment of complex forests on land that was once devastated. More recent years have been spent building Thala Beach Lodge into an internationally recognised luxury holiday experience. Wildlife populations from birds to lizards to native wallabies have returned and flourished on the site in abundance. Over the last 10 years Thala has come alive along with them.
Thala Beach Lodge has achieved the highest accreditation of Eco tourism through its sustainable practice and environmental sensitivity. The Eco Certification doesn't get given out easily. Thala has taken great pains to tread lightly on its surrounding habitats, forests and beach. The private beach is untouched and Thala's magnificent 145 acre peninsular has six different habitats concentrated into this small area.
Ancient littoral rainforest, casuarinas and mangroves lap the beach, while dry eucalypt woodland, gallery forest and coconuts occupy the higher ground and inland creeks. Each habitat attracts its own unique species of flora and fauna, and Thala rests in between.
The extensive accreditation process Thala has gone through covers everything from responsible marketing to blanket environmental sustainability. It establishes recognition in the tourism industry for genuine ecotourism and nature tourism operators and provides peace of mind to travelers who believe the natural state of their destination is a priority.
Embracing techniques with water conservation, education, recycling, construction from local materials and key ingredients used by Ospreys Restaurant's executive chef Herbert Gertzer being grown on site has led to benchmark positioning for Thala amongst the world's finest 5 star resorts.
The sensitivity Thala shows towards the environment encourages guests to interact with the natural surrounds by providing optional guided nature and bird walks, star gazing, photography talks/walks, sea kayaking and information evenings conducted by the local KuKu-Yalanji people. Guests at Thala have more than just a luxurious experience and leave with more of an understanding of the area's fragile natural eco systems.
"Resorts can offer a range of activities that often fall short of grabbing guests' attention or imagination, but we realised the environment at Thala is the resort's greatest asset," says Robert Prettejohn.
Advanced 10" telescopes and a viewing lounge were installed in 2005 at a high point on the headland to take advantage of Thala's very favourable star gazing conditions. The almost zero city-light interference allows galaxies, stars and planets to come into detailed focus.
The 145 acres of forest and beaches can be explored and hiked with or without a guide. Ospreys Restaurant will prepare one of their gourmet picnic baskets on request. The guided nature and wildlife walks through Thala's six different habitats with experts Brett and David are a good way to see how different Thala is from the rest of the coast. Butterflies, countless birds, giant lizards, rare small mammals and unusual plant life are scattered across the peninsular.
Staff at Thala know the beauty of Cairns and Port Douglas, which is easily accessible from Thala, with all the scuba diving, sailing, world heritage rainforest, waterfalls and coastal towns Australia's glistening tropical coast is famous for. They are old hands at organising tours and trips for an overall great experience.
Thala is a place for people to step away from the crowd, take some time out for relaxation and marvel at the natural world it exists with. See what ten years of environmental sensitivity, natural surrounds and five star luxury can do for you. Just let Thala know you want to take advantage of their birthday offer of a free nights accommodation with a minimum of a two night booking.
###