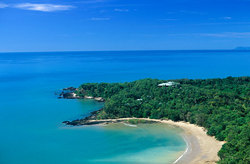 TripAdvisor travelers always appreciate great values, and 2009 is certainly no exception
Cairns, Queensland (PRWEB) February 26, 2009
Thala Beach Lodge has been chosen as the Best Luxury Hotel and Best Romance Hotel in Australia by TripAdvisor in its 2009 Travelers' Choice awards. This is the second year running Thala Beach Lodge, offering Port Douglas accommodation, has been voted best luxury hotel in Australia by also taking out the award in 2008. Now in its seventh year, the TripAdvisor Travelers' Choice awards honor the world's best hotels, earning their distinction from those who know them best - real travelers.
Thala Beach Lodge is a small independent and locally owned resort located between Cairns and Port Douglas. In an aggressive market Thala does not have the resources of large global hotel chains - so direct social reviews and word of mouth are very valuable tools.
Travel sites such as Tripadvisor provide a research option to savvy travelers wanting to know more about their accommodation. By being able to read direct reviews posted by people who have recently stayed at the selected resort or hotel, prospective guests can identify the quality of a product, levels of service, obtain regional touring suggestions and generally develop an understanding of the destination.
"TripAdvisor travelers always appreciate great values, and 2009 is certainly no exception," said Michele Perry, vice president of global communications for TripAdvisor. "Millions of real travelers worldwide have helped identify these outstanding hotels, recognized for their exceptional accommodations, service, and value."
What makes Thala Beach Lodge unique in a dawning age of conscientious travel is the balance of a high level of luxury & service combined with the highest level of Eco Certification awarded by the international Ecotourism Accreditation Program. At Thala, guests enjoy a rich experience where wildlife, native forests and natural beachfronts are protected. This combination of five star comforts and eco peace of mind has proven a hit with TripAdvisor members.
"We are very pleased to notice the influence people's reviews are having on our reputation. This type of direct communication gives people a straightforward and honest idea of what their stay will be like from fellow travellers - no amount of 'traditional' marketing can beat that", Michelle Behsman, Sales & Marketing Manager of Thala Beach Lodge says.
With online reviews, blogs and direct bookings - travelers are more empowered to research and discover the best option for their holiday for themselves. Traditional means of travel involved getting information from a travel agent - social networking opens up the option for people to directly research and book their Port Douglas resort accommodation.
"We have a small dedicated team of staff at Thala that truly pride themselves in providing personalised service. Receiving feedback is instant gratification on the level they are achieving," says Johan Klindt, Manager Thala Beach Lodge. "We are not in the business of selling rooms, we sell an experience at Thala - and therefore are very proud to be voted Australia's best Luxury & Romance for 2009."
###