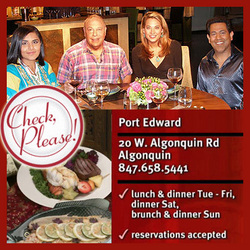 This has got to be the most unique restaurant that I have ever seen!
Wheeling, IL (PRWEB) December 29, 2009
Watch the Check Please! video of Port Edward restaurant here and see what all the talk is about… and visit the Check, Please! website with Port Edward's restaurant information and guest reviews.
"This has got to be the most unique restaurant that I have ever seen!" says Alpana Singh, show host for Check, Please! "I mean, they just don't make restaurants like this. It's the mind of a very interesting person who comes up with a place like this."
Ginger Zee, NBC 5-Chicago's Meterologist, and guest celebrity reviewer, compared her dining experience at Port Edward to her fond memories back home. "I had a friend growing up, and their basement was nautical and we all lived on a lake in Michigan, and we all had boats and such. I felt like I was back there, that I was young again. Even in the booth that we sat in, it was very wooden and nautical, and you're sitting in your own little world of a ship… Make a day of it – it's an experience! The atmosphere is something else, and you certainly won't leave hungry… I was walking out with food up to my neck!"
"It was an amazing place." Said Kamal Hans, Check, Please! guest reviewer and Chicago distribution executive. "The history of the place! You walk in and see that 17th century anchor… I definitely walked out of there feeling like, wow, I've had a meal! Enjoy the drive [there], it's a beautiful drive."
Larry Mandel, Check, Please! guest reviewer, and Funeral Director in Algonquin, has been going to Port Edward Restaurant for 30 years.
"It's the perfect seafood restaurant – an old-world dining experience with a nautical theme." says Larry. "The atmosphere, the service, the parking, the ambiance – it's a place you need to visit, and you'll go back there again and again and again. It's a wonderful, wonderful experience and the ambiance is incredible."
"They also have music entertainment there now. They have this beautiful bar there called 'Salem Lounge' that's right over the Fox River. I'm a river person and an ocean person, and we used to have a boat up the river in Algonquin. They have binoculars, so you can look through them and see the entire river – it's gorgeous! They also have seating outside. They've kind of re-invented themselves to meet the world."
Even the Associate Producer of Check, Please!, Carmen M. Schmidt, gave special praise to Port Edward Restaurant on her blog. "Alpana said this was one of the most unique restaurants she has ever been to and Ginger said the décor reminded her of a restaurant at Disney World. There's a boat, on water, with fish swimming around, inside the restaurant! It's an extreme nautical themed experience. Aside from an abundantly delicious looking Friday seafood buffet, the place just looks interesting and fun! That's what going out to eat should be – interesting and fun!"
Ed Wolowiec, Founder and Owner of Port Edward Restaurant, was interviewed on the Check, Please! show. "My passion is nautical. I've traveled all over the world, and water has always been in my background. I've wanted to create a restaurant that was quite unique, that would take several visits to see. I didn't want people to ever get bored. They come in and they see something new each time – even if you've been dining here for years. You get 'hooked' coming here."
BEHIND-THE-SCENES VIDEOS NOW AVAILABLE
Port Edward Restaurant also has a special behind-the-scenes look at what goes on with a shoot, featuring David Manilow, the Creator and Executive Producer of Check, Please! April M. Williams of Cyberlifetutors.com put up all the videos on her YouTube playlist of Port Edward restaurant, and tweeted video and photos of the event.
ABOUT PORT EDWARD RESTAURANT
Port Edward Restaurant is located at the Fox River and Algonquin Road in Algonquin. Port Edward founder Edward Wolowiec is the eclectic soul whose experience in life includes careers exploring the oceans as a diver in salvage expeditions, in music both as a performer and teacher, the culinary arts - he designed and supervised the building of Port Edward Restaurant. The restaurant opened in 1964 on the banks of the Fox River. Call 847.658.5441 to make your reservations at Port Edward Restaurant today.
###