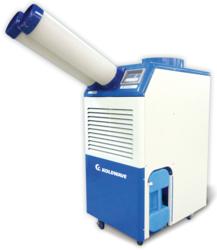 The one-ton spot cooler is the workhorse in our industry.
Dallas, TX (PRWEB) June 18, 2013
Portable air conditioner manufacturer, Koldwave, is proud to announce a new portable air conditioner with new capacities and features designed for the rental industry.
Commonly referred to as a "one- ton" unit, this new model has substantial upgrades and improvements compared to the previous model. This 6KK14 unit features two directional nozzles instead of just one and has an all steel powder coated cabinet and a removable condensate jug with a weight switch to shut off the unit when full. Unlike previous generations, this commercial portable air conditioner does not require a duct flange adapter, so there are less accessories to try and keep up with. The room air temperature sensor was relocated inside the unit to reduce exposure and damage.
"The one-ton spot cooler is the workhorse in our industry," says Koldwave national sales manager Jeff Wilson. "This is the unit that our customers judge our company by. So it must be the highest quality and durability. This is, hands down, the best one-ton unit that Koldwave has ever offered."
Important specs and features include:
Cooling Capacity: 13,200 BTU/HR (1 ton)
Electrical: 115 Volt/ 15 Amp/ 60 Hz (can plug into standard wall outlets)
Powder coated steel cabinet
Removable condensate jug with weight switch to shut off unit when full
Available single point connection condensate pump kit.
Removable nozzles with discharge grill for room cooling
Available room cool mode or spot cool mode thermostat settings
Refrigerant system high-pressure switches
Thermostatically controlled with two speed fans
Heavy duty twin lockable casters
Power cord with arc-fault protection
ETL listed
Auto restart after power interruption
Compressor off-timer (to prevent short cycling)
The new product is stocked in Dallas, TX and will be available to ship in the U.S. and Canada. Koldwave offers two year parts warranty, with three years on the compressor for all of their units.
About the company:
Koldwave is a manufacturer and supplier of industrial and commercial portable air conditioners based in Dallas, TX, and a member of the Mestek family of HVAC and machinery products. Koldwave offers two complete lines of air-cooled and water-cooled spot coolers, and the portable air conditioner capacities range from 6,300 to 61,200 BTU/HR. To see what Koldwave products can do for you, visit http://www.koldwave.com.