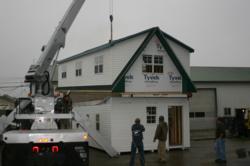 Sales during the normally dead winter months are better than normal
Baltimore, MD (PRWEB) January 31, 2013
Demand for the Sheds Unlimited INC backyard portable structures continues to climb in 2013. "Sales during the normally dead winter months are better than normal", says management at this growing family owned and operated corporation. And along with the growth in demand comes a need for a larger portable office space to allow room for the growing customer service staff at Sheds Unlimited INC.
Walk into the fourteen foot by twenty eight foot portable office structure currently serving as the Sheds Unlimited corporate office, and you will find a crowded space with lots of activity. Three desks and six computer screens cram the small office space where customers come to place their orders. Another small office in a small 8'x8' room in the back serves the delivery coordinator's needs. There is chatter from several phone conversations with customers, a delivery is being confirmed as the clicks of computer keyboards hum through the air.
The small portable office space with four staff is a place of constant activity. Builders from the backyard structures manufacturing shop come in to ask questions about scheduling and details of specific buildings, supplier salesmen come in to sell their products and customers who came across the portable structures manufacturer find buying direct from the backyard structures builder a plus in more than one way. And with growing customer demand there comes the need for more office space.
The new two story portable structure is soon to be completed. Just a few dozen yards from the current office we walk into an all new two story office building still in production. The walls are insulated, electrical wiring and networking cables run and several men are methodically finishing the interior in preparation for the move into the new portable office structure. In a few days, the portable two story structure should be ready to set in place.
The new portable structure that will serve as an office comes with many fascinating features. A full sized stairway leads to the second floor where there is room for three offices and a large conference room. The first floor sports a small bathroom, heat in the floor and also room for three office pods. The portable structure is being finished on the inside with a beaded wood covered with a natural finish and large residential windows leave plenty of light into the building for a pleasant working environment.
Although Sheds Unlimited has not typically produced portable structures that are fully insulated, wired and ready-to-go in the past, they hope this will be the beginning of a new venture. Marketing manager, Chris Stoltzfus says that "with more and more folks working from home, backyard portable office structures are a growing demand." Sheds Unlimited hopes to fill some of that demand by finishing out their portable structures on the inside as backyard office shed, portable retreat structures and portable mini-houses.
Sheds Unlimited has been a builder of portable structures, storage sheds and prefab car garages for thousands of backyards over the past two decades. Their growing presence on the internet has helped develop a company that has grown substantially over the past five years through direct sales to customers in PA, NJ, NY, CT, DE, MD, VA, WV, MA and beyond. Clicks on the portable structures website are up over 100 percent over last year in January and sales over the winter months have been unusually high. It looks like the new two story office structure for Sheds Unlimited will be here just on time for the busy months ahead.