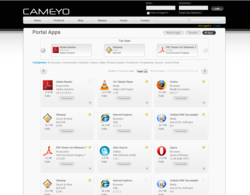 (PRWEB) October 28, 2011
Self-filling, community-driven application library. This would be the best description for Cameyo's self-growing library of portable applications.
Leveraging Cameyo's cloud virtual application packager, Cameyo's portable application library automatically grows every time a user packages a safe, trusted application and indicates that it is sucessfully working for them. Other users can then add their own votes.
This brand new concept of collaborative portable apps library, is another free service from Cameyo.
About virtual applications:
Virtual applications (also called portable applications) can be used without prior installation. They can be moved from one computer to another through USB keys, email or FTP. Today Cameyo announces integration with Dropbox, allowing applications to literally run from the cloud. Furthermore, application's settings and profiles are also saved and synchronized across the cloud, providing a new edge in software mobility.
About Cameyo:
Cameyo delivers application virtualization solutions. Its flagship product Cameyo Application Virtualization is the first in a series of virtualization products. The company currently develops breakthrough technologies that leverage virtualization in new ways.
Cameyo's vision is about making Windows applications mobile and easy to try, use and remove.
Cameyo's video presentation is available on: http://www.youtube.com/watch?v=FSZQzKR9mZE.
All products cited are registered trademarks of their respective owners.
###