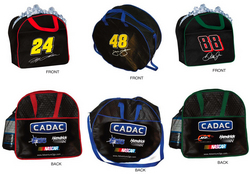 These grills are the ultimate tailgate cooking machines
Pompano Bch., FL (PRWEB) July 27, 2009
If there ever was a match made in heaven then it surely must be NASCAR racing and Cadac's Tailgate Chef and Tailgate Deluxe portable gas grills. The tailgate party was practically invented at NASCAR events and these are the ideal portable grills to keep all those hungry race fans happy.
This match of versatile all-day grills and the all-day NASCAR party is so perfect that race fans will find themselves the envy of trackside tailgaters everywhere they go. These little powerhouses will do things that might normally be expected only from a top end, fully optioned patio grill, all in a package built to handle the toughest track conditions.
Race fans can show their colors by choosing a Tailgate Chef or Tailgate Deluxe carrying bag emblazoned with the car number and signature of three of Hendrick Motorsports greatest drivers - Dale Jr., Jeff Gordon or Jimmie Johnson. Fans can go online and enter a drawing to win a VIP package for four to go behind the scenes at Hendrick Motorsports. The lucky winner will also receive four VIP passes to the Bank of America 500 at Lowe's Motor Speedway. Full details are available at http://www.adventure2go.com/contest.html.
Whether they are in the hands of a trackside chef or just cooking a few hot dogs, these full system grills are up to the task. At the heart of these portable grills is a variable temperature burner fueled by disposable one-pound gas cylinders. The burners have a rack that allows pots to be placed directly over the heat for simmering or boiling. If barbecuing is on the menu, just add the vector grill and put on the hamburgers. There's a flat grill for frying or baking, and on the reverse side is a ribbed grill for fat-free cooking. If the chef wants to shift the party into high gear both grills will also do stir-fry. All cooking surfaces are non-stick, easy to clean and dishwasher safe.
"These grills are the ultimate tailgate cooking machines," says John K. Burke, President of Cadac North America. "They're so easy to pack up and carry anywhere and yet still capable of cooking almost any kind of dish you can imagine, for any meal of the day. There is nothing like them and we think once NASCAR fans give them a try they will be hooked too."
To find out more about the Tailgate Chef, the Tailgate Deluxe and the Hendrick Motorsports race weekend contest please visit the website at http://www.adventure2go.com.
About The Company
Cadac North America is the North American distributor of the high quality grills produced by its parent company in Johannesburg, South Africa. Cadac has 60 years of experience producing some of the world's finest outdoor leisure products. Cadac North America proudly offers a selection of high quality Cadac gas and charcoal grills that are designed for persons who want to escape in style whenever the opportunity arises. Built for unequalled durability, portability and convenience, Cadac products have become the reliable companion for outdoor lovers worldwide. For more information please visit the website at http://www.cadacnorthamerica.com.
###