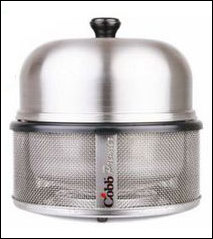 Not only is it easy to use – and safe – but the food tastes great plus you can take it anywhere. Cobb America now has distribution centers setup in both South Florida and Washington State.
DEERFIELD BEACH, FL (PRWEB) August 31, 2006
Florida-based Cobb America officially launches the all new Cobb Premier, fully stainless steel portable cooking system. This unique Portable charcoal grill and smoker is hitting store shelves across the entire United States just in time for summer and the holiday season. Numerous retail chains have added the Cobb Portable Grill to their product line up as a great addition to their holiday gift guides. Weighing only 8lbs and boxed in 1 square foot, makes the Cobb easy to ship for online retailers too.
A strategic marketing plan for Cobb is underway, these included leading industry shows like the Outdoor Retailer Show in Salt Lake City, Utah., the Worldwide fall show in Nevada and Nations Best Sports Show in Texas. The Tailgating Expo in Las Vegas, Nevada is coming up in November. An aggressive marketing and advertising schedule for the 3rd and 4th quarter of 2006 is currently underway. Considering the specialty distribution chains Cobb America is also setting up live store demos at various retailers throughout the remainder of the year. Visit the Cobb America website for more info http://www.cobbamerica.com.
Retailers or specialty stores wishing to sell the Cobb can visit http://www.cobbamerica.com for more information.
"We're excited to put our marketing plans into motion. The Cobb fills a niche like no other product," said Chris Holloway, owner of Cobb America "Word of mouth has brought this brilliant invention this far and now we are targeting a much larger audience. With a loyal following amongst the RV industry, Cobb America is now branching out to the outdoors, camping, boating, fishing and tailgating markets. We see the possibilities as endless for this unique Cooking system."
The design of the Cobb Grill mimics the cooking process of a standard convection oven. Moreover, the Cobb Portable Grill does more than just grill. It bakes, roasts, smokes and fry's too. The small, portable grill cooks plenty of big meals serving up to eight people.
After seeing the potential of the Cobb Cooker, Chris Holloway formed Cobb America to distribute the product in the United States.
The Cobb has generated large amounts of interest from retailers, and Cobb America has already begun distributing through specialty outdoor retailers such as Sportsman's Warehouse, Camping World and a large number of independents. Cobb America is also in negotiations with a number of other specialty stores, so consumers can expect to see the Cobb Grill on store shelves near them very soon.
"South Florida is an excellent launching ground for the Cobb Grill. Our sunny year-round seasons make it ideal for all types of outdoor activities. I know the Cobb Portable Grill is a home-run every time I demonstrate the product!" commented Chris Holloway, owner of Cobb America. "Not only is it easy to use – and safe – but the food tastes great plus you can take it anywhere. Cobb America now has distribution centers setup in both South Florida and Washington State."
The Cobb Experience
The Cobb is a cooking solution for active people. Whether activities include camping, hiking, boating, RVing, or tailgating at the stadium, the Cobb travels, cooks and cleans up in a snap. Before leaving for an outing toss 8 to10 charcoal briquettes into the fire chamber of the grill, place the grill into the travel bag, zip it closed and you're ready to go. Cooking on the Cobb has never been easier. Full meals can be prepared at one time. For example, red potatoes and corn on the cob are roasted in the flavor well while meats and seafood are cooked on the grill.
Love at First Bite
The Cobb design is similar to convection ovens in restaurants and homes. The Cobb Grill can roast, smoke, grill, and bake an imaginable array of dishes. Whether it's over-easy eggs and hash browns for breakfast, a pizza for lunch or a juicy roast dinner with vegetables, the Cobb is truly the outdoor cooking solution. Airflow through the dome's lid holes ensures consistent temperature and even cooking. The Cobb convection system cooks beef, pork and poultry that are moist and juicy. Fish, shrimp and lobster are cooked to succulent perfection. The circulating airflow ensures that flavors are cooked into extra juicy meat when your favorite marinade is added to the Cobb's "flavor well".
Portable
Weighing only 8 lbs., the Cobb is a campers and boaters dream! It's even lightweight enough for an eight-year old child to carry! The heavy-duty Cobb canvas travel bag features two extra long shoulder straps. The roomy design allows for extra utensils, charcoal briquettes or anything you need to prepare a gourmet meal.
Safety by Design
The design of the Cobb originated with safety in mind. An innovation straight out of Africa, the Cobb was initially designed as a cooking system for people in rural areas without access to electricity so they could cook in a safer environment, with less danger of out of control fires. The initial fuel source for the Cobb was dry corn cobs, abundant in rural Africa, hence the grill's name. The unit has been refined and the result is a small, eco-friendly, portable and incredibly efficient barbecue. Charcoal briquettes, a universal commodity, have replaced the corn cobs.
The Cobb's unique construction prevents accidental burns. While the Cobb cooks food at 500 degrees on the inside, the safety base stays cool on the outside. The Cobb Grill can be picked up or touched while cooking - a great safety feature for boaters and peace of mind for campers. This unique safety feature is due to the built-in air pockets and heat shield in the polymer plastic base. Boaters can rest assure that fiberglass won't be damaged and campers can responsibly grill without the danger of starting outdoor flare-ups.
About Cobb America
Cobb America is the Official Factory Authorized U.S. Distributor of the Cobb Grill in the United States. For further information or ordering of the Cobb Cooker from Cobb America please call 954/427-5202 or visit http://www.cobbamerica.com.
###