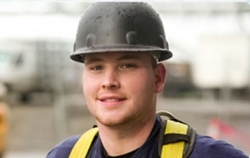 ...the JobClock Timekeeping System will help construction business owners solve the 5 biggest labour management issues they face today
Annangrove, NSW (PRWEB) June 17, 2010
Construction business owners constantly suspect it. Staff and contractors turning up at 7:13, but entering "7:00" on their timesheets. Leaving at 4:39, but reporting "5:00". Taking an hour for lunch, and recording 30 minutes. They're sure there's plenty of "fudging" going on. But how to prove it...?
Every business owner wants to ensure they're getting their money's worth. That they're not being short-changed by your contractors, remote or onsite employees. Especially given just 10 minutes of non-productive or "lost" time each day adds up to an entire week of lost productivity in a 12 month period.
Earlier this year, Time And Attendance Pty Ltd scoured the globe for a solution to this common problem. Their searching lead them to the JobClock Timekeeping System. Already used by over a million contractors in the United States daily, company Managing Director, Mr Peter Morrissey begin_of_the_skype_highlighting     end_of_the_skype_highlighting, quickly identified JobClock as the perfect solution for Australian construction businesses. And he's so excited about the positive impact it will have on the industry, Peter has decided to travel from Sydney to demonstrate the system at Melbourne's Design Build Tradeshow in June 2010.
After speaking with thousands of business owners over the years, Morrissey feels confident the JobClock Timekeeping System will help construction business owners solve the 5 biggest labour management issues they face today, specifically:
PROBLEM #1: Getting accurate timesheets from contractors and employees
The JobClock system removes "guesswork" forever. For perhaps the first time ever, construction business owners can get accurate-to-the-second timesheets from all their remote and onsite employees, and contractors.
PROBLEM #2: Difficulty in tracking labour across multiple sites
One jobsite or 100... 2 staff or 300 contractors... JobClock takes it all in its stride.
PROBLEM #3: Identifying who worked on what specific tasks, and for how long
Business owners can now get precise measurement of how many hours their crew spent doing carpentry... plumbing... traveling... and calculations of their project costs on a day-by-day basis against baseline costs. No more surprises at the end of the project, because their finger is on the pulse. Daily!
PROBLEM #4: Wasting precious hours (or days!) in paperwork
Administration staff will love the JobClock system, because means no more deciphering messy handwriting, worrying about "fat fingers" during data entry, or converting data through to payroll. JobClock does this all automatically for them.
PROBLEM #5: Unable to use traditional timeclocks on remote sites
Most timeclocks are designed for an office environment - not the harsh working conditions of a construction site. The JobClock can be attached to any surface, and is made from construction-grade materials. It's a tamper-proof, rock-solid device, designed for the rough, unpredictable nature of a construction site. Freeze it. Bake it. Shake it!
Time And Attendance Pty Ltd have helped over 1,000 businesses in Australia and New Zealand solve their timetracking and labour cost issues. To find out more about their revolutionary portable time keeping system, and to secure a free information pack, simply visit http://www.JobClock.com.au or call Peter's friendly team directly on 1300 800 077. Alternatively, business owners can meet Peter in person at the Design Build Tradeshow - Melbourne Convention & Exhibition Centre, 23rd - 25th June 2010. Peter will also give FREE entry into the drawer to win a brand new Magicard Card ID Printer valued at over $2,000!
# # #