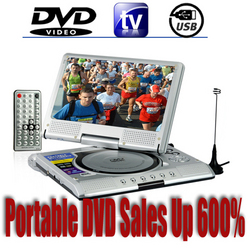 Chinavasion ships out hundreds of orders a day
Shenzhen, Guangdong (PRWEB) September 23, 2009
Sales of 'rip' capable portable DVD players jumped by 600% in just two weeks after their launch according to China wholesale supplier Chinavasion, further demonstrating their usefulness and demand over Blu-Ray.
On September 3, Chinavasion announced the launch of a new product line that bridged the gap between the portable DVD player and the netbook, portable DVD players that could transfer, or 'burn' information from CDs and DVDs to SD cards and USB sticks.
Since then the wholesale electronics company, Chinavasion has increased sales by more than 600%, according to the company's Public Relations Manager Rose Li.
"Chinavasion ships out hundreds of orders a day," according to Chinavasion's Rose Li. "It just goes to show how useful the average person thinks the 'rip' function is."
Chinavasion's Rose Li said at the launch of copy-capable portable DVDs that the lack of the copy function on the portable DVD was one of the things that held back the device from being more mainstream.
She said it was good to have her analysis confirmed.
"According to the survey company Neilson, only 8% of consumers were buying Blu Ray discs," said Rose Li, "Why would someone buy a very highly priced Blu-Ray when their entire media collection was made up of standard DVDs?"
According to James Pritchard, a purchaser of the CVJN-E46 portable DVD he couldn't justify spending US$700 or more on something that he wouldn't see the full benefit of.
"Something with such a high resolution and such a small screen just doesn't make sense, especially when compared to the copy which has already been very useful," said Mr Pritchard. "The burn capable portable DVD comes with a much higher value for money than the Blu Ray portable DVD."
Chinavasion's Rose Li said the functionality of the rip-capable portable DVD coupled with the speed and integrity of Chinavasion had made it such a successful launch.
"Chinavasion's goal is to put the latest in technology from China in the hands of people everywhere and this portable DVD player launch is an example of how quickly it can achieve that goal," said Rose Li.
###