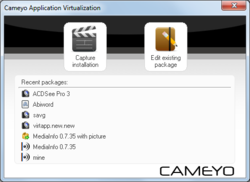 iPad and iPhone users download applications without thinking twice because they can easily download, try and remove them with no side effects.
Tel Aviv (PRWEB) August 30, 2011
Portable applications are now at everyone's reach. After an entire year in Beta, Cameyo releases its free application virtualization product for general availability. The product allows both beginners and experts to leverage application virtualization and store entire applications on Dropbox and USB disk-on-keys.
Application virtualization for everyone:
Application virtualization has so far been reserved for enterprises and IT specialists. Products in this category have been around for a long time, but were complex to use and too expensive for most Internet users. Cameyo Application Virtualization, entirely free, introduces ease of use and simplicity into this field. Thanks to its One-Click-Packaging technology, users can create their own virtual applications with no questions to answer or complex settings to set. The product aims at broadening the range of application virtualization users into homes and small businesses.
"There is no reason for the high price and complexity of today's application virtualization products," says Martin Tokayer, CEO. "Once users give Cameyo a try they'll wonder why application virtualization wasn't always that simple.
"iPad and iPhone users download applications without thinking twice. Why? Because they can easily download, try and remove them. They know they cannot de-stabilize or harm their device or data by doing so. This is where we want to take application virtualization on PCs," concludes Martin.
The Beta phase:
During the Beta testing phase, Cameyo's website has attracted 400,000 visitors and over 100,000 downloads. It has been listed among PC Magazine's Best Free Software of 2011. Thanks to close interaction with Cameyo users, the product has been considerably improved during the Beta period. "Every version we've released for the past year was driven by discussions with our users, who were able to report feedback and vote for new features", says Martin. "In our last survey, 95% users said they found Cameyo easy to use, and that's when we knew we're ready."
About Cameyo:
Cameyo delivers application virtualization solutions. Its flagship product Cameyo Application Virtualization is the first in a series of virtualization products. The company currently develops breakthrough technologies that leverage virtualization in new ways.
Cameyo's vision is about making Windows applications mobile and easy to try, use and remove.
All products and services mentioned are the property of their respective companies.
# # #