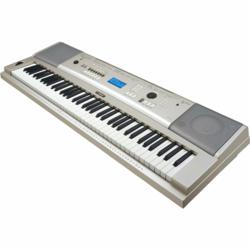 North Berwick, Maine (PRWEB) February 14, 2013
Portable Piano Outlet, a musical instrument provider serving the industry since 2011, delivers a list of the top five best selling keyboards.
Portable Piano Outlet compiles a list of the top five best selling keyboards based on sales data gathered from the company.
1. YPT230: The YPT230 has 385 high-quality instrument voices and 100 accompaniment styles. This model has excellent tone, very good touch, and can be easily accessorized. Its lightweight and minimal dimensions make it portable and perfect for casual use or for beginners. It is easy to use and is a great buy for the money. It features a wide variety of voices, including preset digital effects. It has 100 accompaniment styles and 102 built-in songs. Use the Portable Grand button to instantly call up an authentic stereo grand piano sound.
2. SA76: Perfect for children or the beginner, the 44-key SA-76 offer's all the essentials for playing those first tunes. 100 tones, 50 rhythms and 10 integrated songs provide variety. Kids will also enjoy dancing to the preloaded songs, and the keys are a perfect fit for little fingers. The LC display helps with selecting and calling up the different music options.
3. YPG235: This keyboard has 76 keys but also offers full keyboard mode which enables it to play more like a traditional piano. Features also include Graded Soft Touch keys, with 30 built-in songs with lessons for each hand and a "repeat and learn" feature.
4. CTK2300: The CTK-2300 keyboard is an affordable 61 Key Electronic Keyboard that comes with Casio's good reputation. It includes the optional A/C Power Adapter, but also takes 6 AAA batteries for portability. The CTK-2300 provides a huge range of features and functions, is lightweight, and the step-up learning system makes it easy to hear the progress made in playing skills.
5. LK165: The LK-165 is a 61-key, piano-style keyboard with light-up keys, up to four keys at a time. It also features 400 total on board tones, 150 rhythms, 110 built-in songs, 10 reverb types and a sampling function. It comes with an AC adapter but can also be powered by six AA batteries.
Anyone interested in learning about the best selling products at Portable Piano Outlet, or to see the numerous musical instrument lines, can visit PortablePianoOutlet.com for more information. One will find a variety of ideas included in the catalog, consisting of sheet music, musical gifts, keyboard bags, benches, children's instruments, band and orchestra instruments, and all related accessories.
In addition to offering musicians the same level of quality and superior service that current customers receive, anyone interested can sign up for the free monthly newsletter to receive valuable coupons and announcements about upcoming contests and special sales.
Portable Piano Outlet, one of the nation's leading up-and-coming musical instrument sales companies, provides a one-stop resource for musicians from the very beginner to the seasoned professional. PortablePianoOutlet.com is based out of North Berwick, Maine and is fueled by the love of music.