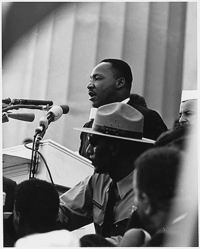 "I have a dream that my four little children will one day live in a nation where they will not be judged by the color of their skin but by the content of their character."
North Berwick, Maine (PRWEB) January 08, 2013
Portable Piano Outlet's decision to offer broad store-wide savings for the month of January was influenced by the celebration of Martin Luther King Jr Day.
"Dr. Martin Luther King Jr. was an influential and powerful man, and he made tremendous strides leading the Civil Rights Movement," states Crystal Normand, owner and founder of PortablePianoOutlet.com. "He spent his life serving others, and it inspired me to do the same." There are a number of special events throughout the country to honor this civil rights leader. Events include parades, film festivals, and music celebrations. One can check their local listings for details.
Visitors to PortablePianoOutlet.com will enjoy anywhere from $15 off a purchase of $100 all the way up to $100 off purchases of $600 or more.
In addition to offering musicians the same level of service that current customers receive, anyone interested can sign up for the free monthly newsletter to receive valuable coupons and announcements about upcoming contests and special sales.
Anyone interested in learning more about the special promotions at Portable Piano Outlet, or to see the numerous musical instrument lines, can visit PortablePianoOutlet.com for more information. One can also find a variety of ideas included in the catalog, consisting of sheet music,musical gifts, keyboard bags, benches, children's instruments,band and orchestra instruments, and all related accessories.
Portable Piano Outlet, one of the nation's leading up-and-coming musical instrument sales companies, provides a one-stop resource for musicians from the very beginner to the seasoned professional. PortablePianoOutlet.com is based out of North Berwick, Maine and is fueled by the love of music.