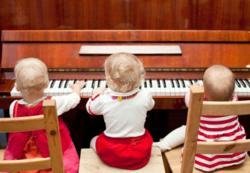 North Berwick, Maine (PRWEB) November 27, 2012
Faced with the most consistent question from potential and new customers, Portable Piano Outlet seeks to answer: "What are the biggest benefits to playing a musical instrument?"
"I started this business in part because of how empowering playing the piano made me feel," says Crystal Normand, owner and founder of Portable Piano Outlet. "I wanted others to be able to reap the many benefits playing an instrument can have."
1. Treating illness. It is a well known treatment among many doctors to use music as a form of therapy. There have been studies to suggest music has a profound effect on lowering blood pressure, and helping to treat depression and insomnia.
2. Playing is empowering and confidence building. "Empowerment was my inspiration," states Normand. "It allows me to express my thoughts and feelings through music when I can't always find the words. The more you play, the more skills you develop, and the more confident you become."
3. Releasing creativity. Music can be an agent for releasing inner creativity. This comes not just from formally composing songs. "If you play a familiar favorite, try playing in a different key and you've made it your own. This can open the flood gates to even more, and can spill over into other areas of your life."
4. Stress relief. Whether it's the piano, guitar, or any other musical interest, playing music is generally soothing to both the musician and to those listening as well. It allows for one to decompress from whatever stress might be acquired on a daily basis.
5. Patience. There are some that can play an instrument after barely sitting down with it. For the majority of new musicians, however, it takes dedication and focus, and logging hours of practice.
6. Fun. Let's face it. Playing an instrument is just plain fun. Even with knowing just a few notes or chords, full songs can be produced. It is also is very entertaining to sit down with a group of friends to play and sing. There are infinite memories made and laughs shared.
Portable Piano Outlet is an up-and-coming musical instrument sales company, and provides a one-stop resource for piano enthusiasts and all musicians from the very beginner to the seasoned professional. Along with an ample selection of digital pianos and keyboard accessories, one can find a vast assortment of fretted, percussion, and orchestra instruments. Anyone interested in learning more about Portable Piano Outlet can visit PortablePianoOutlet.com for additional information. Portable Piano Outlet is based out of North Berwick, Maine, and is fueled by the love of music.