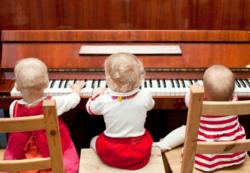 North Berwick, Maine (PRWEB) October 23, 2012
Portable Piano Outlet is a full-service musical instrument provider that has served the industry since 2011. The recent study published by Northwestern University is in line with their founding and core values.
A recent study by researchers at Northwestern University documented the effectiveness of processing different sounds based on how much musical training was received during childhood. The study concluded that those with even a small amount of musical training were better able to pull out different frequencies, and recognize and process sounds in complex and noisy environments. The study concluded that the effects musical training filters to other areas, such as speech and language. Comparable to physical exercise and its outcome on the body, music is a device that tones the brain.
"Studies have consistently shown the multitude of benefits playing a musical instrument can have on the body and mind," states Crystal Normand, owner and founder of Portable Piano Outlet, who took a 24-year "break" from playing the piano herself. "Not only can it improve your brain function in several areas, it is also a great tool for stress relief, increasing patience, and building a sense of accomplishment."
Portable Piano Outlet was founded based on the owner's love of music and the need to create awareness of the diverse benefits playing an instrument has. "The duty to promote awareness is greater than ever right now, especially since music programs are usually the first on the chopping block when there are budget cuts. With evidence supporting the importance of music, the loss of music education seems especially troublesome."
Anyone interested in learning more about Portable Piano Outlet, or to see their numerous musical instrument lines, can visit http://www.portablepianooutlet.com for more information. One can also find a variety of ideas included in the catalog, consisting of sheet music, musical gifts, keyboard bags, benches, children's instruments, band and orchestra instruments, fretted instruments, and all related accessories.
Portable Piano Outlet, one of the nation's leading up-and-coming musical instrument sales companies, provides a one-stop resource for musicians from the very beginner to the seasoned professional. PortablePianoOutlet.com is based out of North Berwick, Maine and is fueled by the love of music. It was founded in 2011 and is a one-stop resource for the musical needs of any piano enthusiast from the very beginner to the seasoned performer.