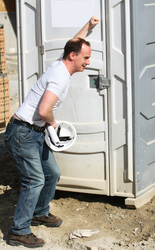 Manchester, UK (PRWEB) August 2, 2007
TopSkips Portable Toilet Hire Services offers all types of toilets for hire, including chemical toilet hire, steel portable toilet units, flushing toilets, disabled access portable toilets, portable toilet and bathroom hire, short and long term portable toilet hire, supplies of toilet paper, hand wash, hand towels, blue additive and deodoriser at no extra charge.
TopSkips Portable Toilet Hire can also provide modifications on portable toilets to cater for individual use, from disabled ramps to baby changing.
TopSkips have been providing skip hire services across the UK for nearly five years but have also been supplying Portable Toilet Hire services unadvertised for the same period of time. Managing Director, Mark Attwood, explains: "TopSkips has been providing first class site services for thousands of companies across the UK and Ireland for nearly five years.
"Due to recent investment in this type of service, we are now ready to roll our offering out to industry and the public at large, in addition to our skip hire services. Onsite portable toilets are vital for any long-term job. Workers need clean hygienic facilities. Whether your job is for a big workforce in the middle of bustling city or for a few workers in the back of beyond, TopSkips Site Services can provide sanitary solutions to your onsite problems," Attwood said.
He continued, "Providing onsite portable toilets for workers improves working conditions and also increases the work-rate by fifteen minutes per worker per day. Therefore, by installing portable toilets, you are reducing your overall costs. The presence of toilets onsite indicates a reliable company. The image that is projected is one of professionalism, attention to detail and care over the workforce and the surrounding environment."
TopSkips are usually able to deliver portable toilets within 24 hours of receiving an order. They make sure all their portable toilets are steamed and sterilised before delivery making them ready to use on delivery.
TopSkips Portable Toilet Hire UK also provides a dedicated account manager so you are always talking to the same person, and single-point invoicing wherever you need portable toilets around the UK.
TopSkips is also accredited with the International Quality Standard ISO9001:2000 - your assurance of top quality service.
###