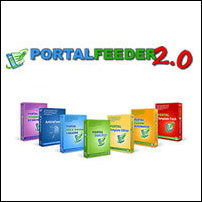 ...once you learn how to market products, affiliate programs and or datafeeds with the Internet
Katy TX (PRWEB) April 27, 2007
Can a single mom, staying at home with two toddlers, create and run a cosmetics business that sells as much lipstick as the Walmart down the street?
Can a retiree, short on social security benefits and strapped for cash, sell thousands of dollars worth of dog collars and leashes while playing the back nine at his favorite local golf course?
Can a 16-year-old teenage girl make a six-figure weekend income selling jewelry while shopping for her prom dress?
"The answer to all those questions is yes, " says Jason Potash, a successful online entrepreneur and software developer who has seen it happen.
"Almost 40 years ago," Potash says, "NASA scientists ran moon landings with less computer power than we have today in an IPOD. Now people in all walks of life are learning how to use modern computers--and the immense marketing reach of the Internet--to build businesses they can run from their kitchen table. In fact, thanks to datafeeds and affiliate programs, you don't even have to be home to run a business that generates thousands or even millions of dollars in sales. You can be out fishing or snoozing on the beach."
"Best of all," according to Potash, "you don't need a Harvard MBA or a knockout corporate resume to make as much money as a high powered executive. All you need is a basic knowledge of internet marketing and the right computer tools and programs."
Potash has teamed up with Marc Quarles and Jason Katzenback to create PortalFeeder, a software and training business system which helps individual "e-tailers" get incredible search engine rankings and attract loads of targeted visitors to websites that sell products, whether through "datafeeds", "affiliate programs." or their own "Products".
Even if you do not own a product, using "Datafeeds and affiliate programs" are easy and available to everyone," Katzenback says. "No matter how old or young you are, no matter how much education you have, no matter what you've done in life before.
"...once you learn how to market products, affiliate programs and or datafeeds with the Internet," Quarles adds, "you can own a business that competes with any of the big "box store" retail outlets in your area."
To learn more about PortalFeeder, visit http://www.portalfeeder.com. Contact information for successful "e-tailers" who have used PortalFeeder to build their online businesses is also available.
###