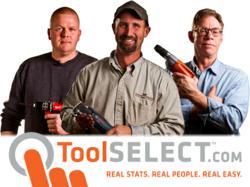 When we spoke to users, they really appreciated the versatility of using the oscillating multi-tool for many different applications, but they also expressed their frustration with the lack of runtime
Grand Rapids, MI (PRWEB) May 16, 2012
Porter-Cable Tools is launching a new 18-volt oscillating multi-tool in response to user feedback that wanted more runtime out of a multi-tool. The ToolSelect.com community is eager to review and discuss the new tool.
Porter-Cable designed this tool to double the runtime over their 12V MAX oscillating multi-tool, and also made the 18V multi-tool compatible with lithium-ion and NiCd battery platforms. The tool is suitable for remodelers, carpenters, general contractors and other tradesmen for applications like cutting, sanding, scraping and grinding.
"When we spoke to users, they really appreciated the versatility of using the oscillating multi-tool for many different applications, but they also expressed their frustration with the lack of runtime," said Wil Granger, group product manager with Porter-Cable. "With our customers' frustrations in mind, we are launching an 18-volt cordless oscillating tool under $200. This tool is designed to meet the needs of professionals and help provide increased productivity on the jobsite with longer runtime per charge compared to the 12V MAX oscillating multi-tool."
Porter-Cable notes the 18-volt oscillating multi-tool gives users double the runtime per charge when used with the PC18BLX compact battery and triple the runtime when used with the PC18BLEX extended-runtime lithium-ion or PC18B NiCd batteries when compared to the 12V MAX model.
The tool weighs 2.8 pounds, battery included, and gives users 7,500 to 15,000 oscillations per minute with an oscillation angle of 2.8 degrees.
This tool is available as a bare tool or as part of a kit that also includes a PC18BLX lithium-ion battery, an accessory box and kit bags. Both the kit and bare tool come with 32 accessories to work with various applications and also are protected by a three-year limited warranty, one-year service contract and 90-day money-back guarantee.
"Multi-tool reviews are very important within our community," says Gerry Barnaby, Director of Excitement with ToolSelect. "Because there's already so much that goes into a multi-tool, being able to read, watch and share first-hand reviews makes the task of choosing a multi-tool less daunting. We're excited to see what our members have to say about this new Porter-Cable tool."
About ToolSelect
ToolSelect is an unbiased community powered by its members that covers all aspects, types and brands of tools, but does not actually sell any tools. ToolSelect's members include everyone from experienced tradesmen to complete novices. Users trade tips, compare notes, debate their favorite tools and work together to help each other make intelligent purchasing decisions.
Like ToolSelect on Facebook (ToolSelect)
Subscribe to ToolSelect on YouTube (toolselecttv)
Follow ToolSelect on Twitter (toolselectmedia)