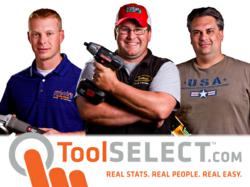 We wanted to give our users a tool that has the power to perform tough applications while providing controlled cuts when working with smaller material
Grand Rapids, MI (PRWEB) August 09, 2012
PORTER-CABLE announced the September release of the new, 18-volt ClampSaw® reciprocating saw (PCC475B), which includes a clamping shoe and multi-position handle and was designed for professionals who need high performance, and the ToolSelect community is already discussing the new tool.
Designed for all construction trades, the ClampSaw® uses high cutting speed and power along with a tool-free clamping shoe to assist with cutting pipe, strut, threaded rod and rebar.
"We wanted to give our users a tool that has the power to perform tough applications while providing controlled cuts when working with smaller material," said Wil Granger, group product manager with PORTER-CABLE. "Based upon our research, a lot of users express frustration with starting and completing cuts in smaller material such as pipe or strut. The issues with material movement when cutting are threefold: lower productivity, reduced accuracy and marring the surface of the material. The PCC475B reciprocating saw greatly reduces these frustrations with a tool-free shoe that extends around the material and clamps it into place for a fast, accurate and clean cut."
The new ClampSaw® uses a three-position pivoting handle to let users fit the saw into tight spaces while placing their hands in ideal positions. The off-set position is designed for getting in between rafters, the angled position lets users easily put pressure on the blade for cutting speed and the inline position brings the tool to less than five inches in height from top to bottom.
The tool weighs 4.4 pounds and features a one-inch stroke length with up to 3,000 strokes per minute. Other features include a tool-free blade change, slip-resistant over-molded handle and an LED light for dark workspaces. Available as a bare tool, the ClampSaw® is covered by a three-year limited warranty, one-year service contract and 90-day money-back guarantee.
"Our community gets excited for any new product launch," says Stephen Glaesman, CEO of ToolSelect. "When the product is designed for professionals, as is the case with this PORTER-CABLE ClampSaw®, it's especially exciting to see what our community has to say both before and after the launch."
About ToolSelect
ToolSelect is an unbiased community powered by its members that covers all aspects, types and brands of tools, but does not actually sell any tools. ToolSelect's members include everyone from experienced tradesmen to complete novices. Users trade tips, compare notes, debate their favorite tools and work together to help each other make intelligent purchasing decisions.
Like ToolSelect on Facebook (ToolSelect)
Subscribe to ToolSelect on YouTube (toolselecttv)
Follow ToolSelect on Twitter (toolselectmedia)