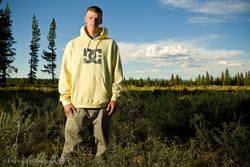 We couldn't be more stoked on such a dynamic individual who is down to earth, willing to work hard and be inspirational to all those young kids out there who want to have fun snowboarding
Truckee, CA (PRWEB) August 29, 2008
PortersTahoe.com is excited to announce the addition of Chas Guldemond to their snowboard team! Now calling Tahoe home, Chas has decided to ground himself in Truckee, Ca to continue pursuing his snowboarding career. There is no better place to call home base than in Tahoe known for its legendary terrain and bluebird powder days. Chas decided to affiliate himself with a long-standing retailer, Porters Sports, who in the past couple years has made a strong presence online with PortersTahoe.com.
Chas brings to the table excellent contest results like 1st 2008 Vans Tahoe Cup Rail Jam, 1st 2008 Honda Session Rail Jam, 3rd 2008 Honda Session Slopestyle and is currently in 4th in the Ticket To Ride World Tour Standings. Chas' impressive competitive career has opened the door to the cinematic side of snowboarding earning him a spot with the legendary Standard Films.
PortersTahoe.com is honored to support Chas in his snowboarding endeavors at the local level and abroad. "I'm super stoked to be on board, the crew at Porters is all about having a good time and sharing their passion of Tahoe and snowboarding. I really feel like I fit in well with everyone and the whole Porters mission. I just want to share my love of snowboarding and inspire people to go out with their friends and get creative on their snowboard," says Chas. "We couldn't be more stoked on such a dynamic individual who is down to earth, willing to work hard and be inspirational to all those young kids out there who want to have fun snowboarding," says PortersTahoe.com Snowboard Team Manager Eric Asistin.
Chas joins the established Porters team of Andy Finch and Nate Holland along with the young blood of Brandon Cocard, Bobby Witty and Johnny Lazzareschi. Go to the PortersTahoe.com BLOG to stay updated on what's going on with companies such as Burton Snowboards and K2 Skis as well as events in Tahoe and abroad as the PortersTahoe.com Snowboard Team looks for an epic and bright season.
# # #