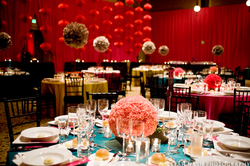 Food in Bloom will retain its entire management team and kitchen staff.
Portland, OR (PRWEB) January 26, 2011
Vibrant Table Inc., owners of Vibrant Table Catering & Events, today announced that it has purchased Food in Bloom Catering as well as the Daily Café locations at Montgomery Park in NW Portland and Rejuvenation Hardware on SE Grand Ave. Food in Bloom will continue to be operated as a separate business entity and will retain its entire management team and kitchen staff. The Daily Café name will be changed to F&B Café where several new items will be introduced to the menu in the coming weeks.
Vibrant Table Catering & Events and Food in Bloom Catering are both recognized as top Portland area caterers. Vibrant Table is best known for its ability to create one-of-a-kind culinary experiences through an imaginative blending of venue, décor, floral designs, sight, sound, food and drink. Food in Bloom is best known for its fine cuisine and ability to create dishes that rival – or even surpass – some of the best restaurants in town.
"Over the past 30 years, Food in Bloom has built an unsurpassed reputation for excellence among some of Portland's most discerning clientele and the company is a fantastic complement to Vibrant Table's unique style and business model," said Art Fortuna, president of Vibrant Table Inc. "We are thrilled to be working with such an exceptional group of professionals and look forward to many more decades of growth and success."
General manager, Catherine Buford, a 15-year Food in Bloom veteran along with executive chef Billy Schumaker and the entire crew will remain with the company, which will continue to operate out of its facilities in the Montgomery Park Building. Vibrant Table's Art Fortuna and Kurt Beadell will replace founders Jim and Kristin Harris as owners and will oversee both ventures as well as the cafés.
ABOUT VIBRANT TABLE INC.
Headquartered in Portland, Oregon, Vibrant Table, Inc. is the owner of Vibrant Table Catering & Events and Food in Bloom Catering, two of Portland's most successful and well-respected catering businesses. From simple to elaborate, mild to wild, elegant to avant-garde, both companies have the experience, the passion and the creative firepower to deliver exquisite cuisine, remarkable culinary performances and exceed client expectations time after time. They are the exclusive caterers for several of the region's most sought after event venues including the Portland Art Museum, Treasury Ballroom, Zenith Vineyard and the Montgomery Park Building. For more information about Vibrant Table Catering & Events visit http://www.vibranttable.com. For more information about Food in Bloom visit http://www.foodinbloom.com
###