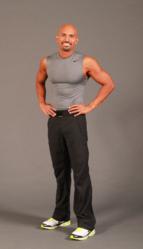 Professional Portland Personal Trainer
Portland, Oregon (PRWEB) December 23, 2011
Every holiday season the Fitness, Health & Exercise Industry offer Healthy Tips, but they never address why people won't exercise. Portland Personal Trainer Kisar Dhillon has compiled a list of the Top 30 Excuses Why People Do Not Want To Exercise and it can be funny, not so funny, but they are all real excuses that have been used.
1. It is too hot to workout..
2. Don't have the right type of shoes or clothes.
3. Things are just crazy! How crazy? Just crazy!
4. Rather spend time on hair and nails, than work out.
5. Hard to leave the house right now & there is too much going on.
6. Boobs are too big for exercising.
7. Rather not eat, plus it is easier being overweight.
8. Don't like the taste of water, and working out creates thirst.
9. Despise walking, it is too slow.
10. It takes too long to walk, let's run, it is much quicker (morbid obese person).
11. Working out creates smell & torture.
12. Something needs to happen. When is it going to happen? Not now!
13. Tasty food is everything, so why give it up, especially the fried stuff.
14. The Plastic Surgeon can cut that piece off or do Liposuction, it is quicker too.
15. It burns too much, it is too hard & it requires effort.
16. Movement causes the ankle and knee to hurt (person was100lbs overweight)
17. How about exercising once per week (four times per month – what)?
18. It has to be done on the couch, that's the rule?
19. It is hard to give up beer to create a six pack, drinking it is so much easier.
20. Summer is for chauffeuring the kids around while on break, not exercising.
21. No way, that is way too early. Lets just sleep and say it was a good workout.
22. Too many obligations right now to even think about exercise.
23. Don't like to walk in the neighborhood.
24. Why exercise with weights, they get you bulky.
25. Significant other won't say yes and they don't think it is necessary.
26. Start after the holidays (very popular).
27. Makes the heart to beat that fast.
28. Too stressed out to exercise ( hire a personal trainer).
29. Let's wait until the work schedule gets easier (most of the time it won't).
30. Can't give up wine, so create a diet and workout around wine & happy hour
Excuses are excuses and some people use them more than others, but they are prevalent. No wonder why the USA is fattest nation in the world. People spend so much time and energy generating excuses that they hope they work, but it consistently does the opposite, nothing happens and they are at back at square one. That is why working with a professional personal trainer or having an exercise partner is so important for accountability.
Kisar Dhillon is a Professional Personal Trainer in Portland, Oregon. He operates under a Limited Liability Corporation. His business maintains liability insurance, member of IDEA and is current in CPR/AED training.
For more information contact
Kisar Dhillon, owner
Website: http://www.kisardhillon.com
Email: kisar(at)kisardhillon(dot)com
Phone: 949-230-0133
###